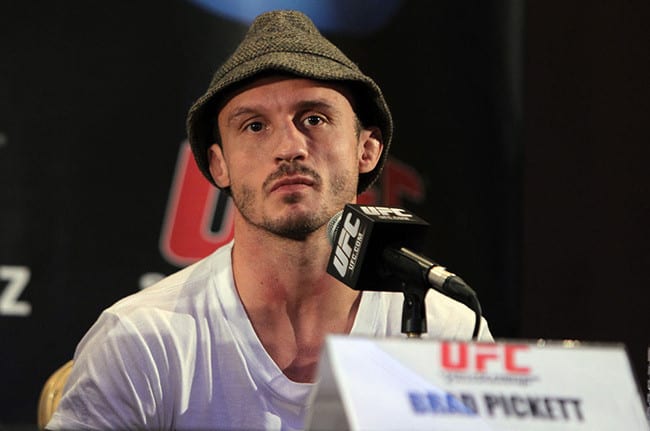 When Brad Pickett faced Urijah Faber at UFC Sacramento recently, he played something of a secondary role due to the last fight of a legend's career, in their hometown no less. And, while he didn't come away with the victory, he did come away with an idea.
A twelve year veteran of the sport himself, Pickett has had a rough time of late, winning just two of his last eight. And, at 38-years old, Pickett feels it's time he started looking at life after fighting. So what better way than to emulate Faber himself?
"I'm looking to get on the London card in March, it's been in the back of my head, but I want to do what Urijah Faber did and retire in [my] hometown," Pickett said, on his own One Punch Podcast. "That's what I really want to do. Now it's time. I'm not doing myself justice, and I don't want to be in the sport just to make up numbers. I love my job, but everything has to come to an end at some point, so I'd rather do it now while I can talk to my son, so I'd rather retire in the O2 in March next year in my hometown.
"The reason why [I'd] do it then — I'd fight later on that year if I have to — but they are going to London and that's where I'm from. I owe it to myself to retire in my hometown. That's where I started fighting and they only go to London once a year so for me I wouldn't want to wait another year. I don't have it in my age or in my body for another year to pass. I want to get in on this March card and hand in my gloves and pursue other ventures you know."
A veteran from the WEC days, while Pickett hasn't won himself a title or found himself as a perennial contender, his willingness to engage has meant he's been involved in a number of exciting fights (earning five fight of the night bonuses) and as such has given him the status as a fan favourite.
And, just like with Urijah Faber, a send off in his hometown would be the perfect way to call a day on a career that's spanned nearly 40 fights.
Comments
comments