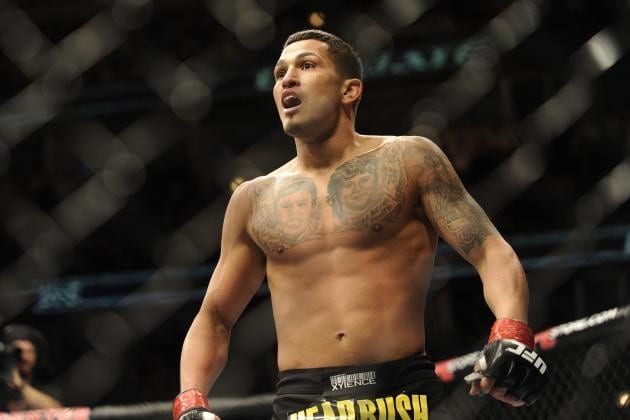 With the recent saga of UFC's stripping Conor McGregor of his featherweight belt, Anthony Pettis and Max Holloway have found their UFC 206 headlining bout under more scrutiny than it most likely would have had otherwise.
The two will now face each other for an interim featherweight belt, with the winner going on to face Jose Aldo in a bout to clear the muddy waters of the 145-pound title scene.
While the entire affair means that at UFC 206, someone will have gold wrapped around their waist in less-than-perfect circumstance, former lightweight champion Anthony Pettis is still grateful for the opportunity.
"I've been a champion before, I know how these belts work," Pettis said, on the UFC 206 media call. "Once you get a title shot, it doesn't really happen to a lot of guys, you got to be in the right position at the right time. It worked out for us. We don't decide who's going to fight who for the title, me and Max agreed to fight five rounds without the title, but with a title on the line it's going to be that much better of a fight."
While winning the interim title may not end up being the defining moment in either man's career, what it does offer is a chance (in theory) to cement ones place at the front of the queue — namely a shot at the undisputed title.
"It means we're getting a definite shot at the official title of 145-pounds," said Pettis. "Like I said, title shots don't come a lot in this sport and very few guys get them. This fight for both of us, guarantees ourselves a shot at the 145-title."
While that shot will be against Jose Aldo, the question of Conor McGregor still looms over the featherweight division. As the Irishman never lost his title in the cage, some fans are struggling with the idea that Aldo is a legitimate champion.
For Pettis though, McGregor and Aldo are irrelevant; all that matters is his own path.
"He's done a great duty for this sport, Pettis said. "He's definitely brought this sport to a bigger life than it's ever been, but before him and after him I'm still trying to fulfil my legacy — becoming a two division world champion. I've been at 155-pounds, I'm working my way to 145-pounds. It definitely happened a lot quicker than I expected, but I'm game, I'm ready."
"I'm not worried about Jose Aldo or Conor McGregor, who's belt has what. All I'm worried about is December 10."
Comments
comments