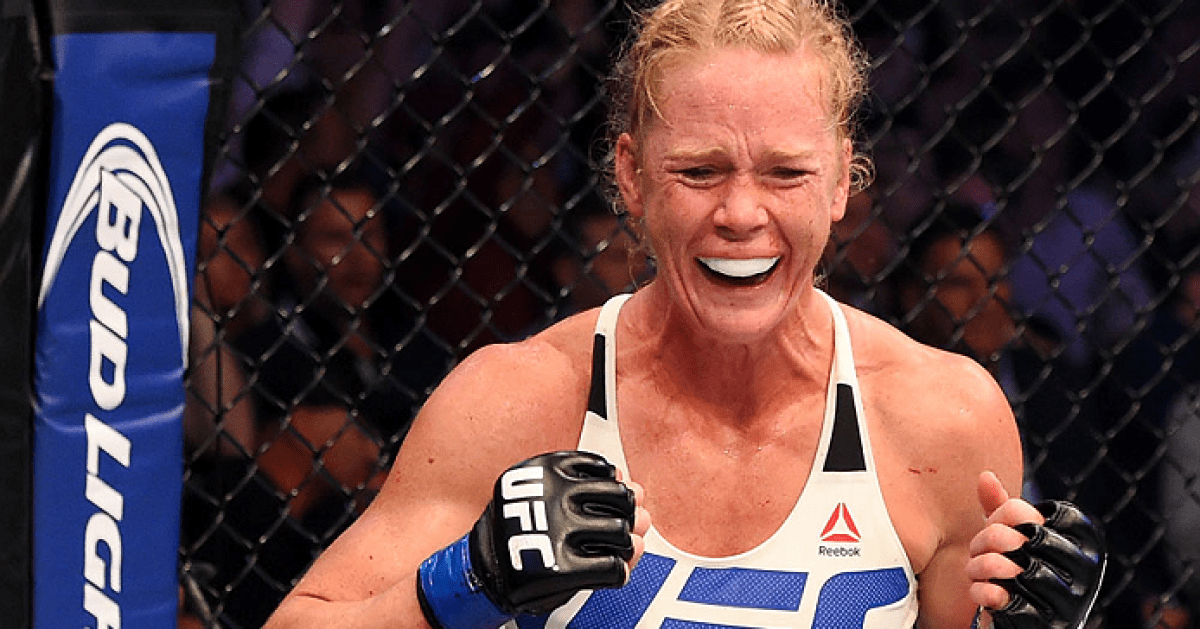 Next February at UFC 208, Holly Holm will have a chance to etch her name into UFC history if she beats Dutch striker Germaine De Randamie for the inaugural UFC women's featherweight title.
In doing so, Holm would become the first woman (and just the fourth fighter) to have won championships in two separate divisions in the UFC. Holm, of course, has previously held the women's bantamweight title after her stunning knockout of Ronda Rousey in Melbourne in November of last year.
Rousey, meanwhile, gets a chance to recapture the title she lost a year ago when she challenges current titleholder Amanda Nunes at next weekend's UFC 207 and, if both Rousey and Holm are successful in their title bids, it could potentially set up a high profile rematch between the two.
Speaking to ESPN, UFC president Dana White appeared to confirm that this line of thinking is something that the UFC are considering.
"This is a business of opportunity", White said. "When opportunity arises, you jump up and take it. If you don't, the bus is gone, and it passes you by. If Holly wins and becomes a champion, and that's the scenario [Rousey regains the title]? I guarantee people will want to see it."
For her part, Holly Holm is keeping her eyes fixed on De Randamie but is open to a bout with Rousey in the future.
"I don't think about it because there's a lot that has to happen," Holm said at the UFC event in Sacramento last weekend. "That's what I say when people ask me about it. 'Hey don't you want to rematch Ronda?' and I'm like well there's a fight that's taking place Dec. 30 and there's still a fight taking place Feb. 11 and depending on how both of those go, that could be the make or break of everything, who knows what will happen in three months. Anything can happen in three months."
While Holm appears open to a rematch, the principle consideration is that of Ronda Rousey. The biggest female star in the sport's history has cut something of a reclusive figure since being knocked out by Holm, telling Ellen DeGeneres that her days in the sport were number and, more recently, announcing that she won't be speaking to any media in advance of her fight at UFC 207.
Could Rousey be persuaded to once again face the only fighter who ever beat her? While speculation about Rousey's future in the sport is exactly that — speculation — you feel that we'll know a lot more by next Saturday night if Ronda Rousey intends to push forward with her MMA career or look for pastures new.
Either way, it is going to be a must-watch.
Comments
comments