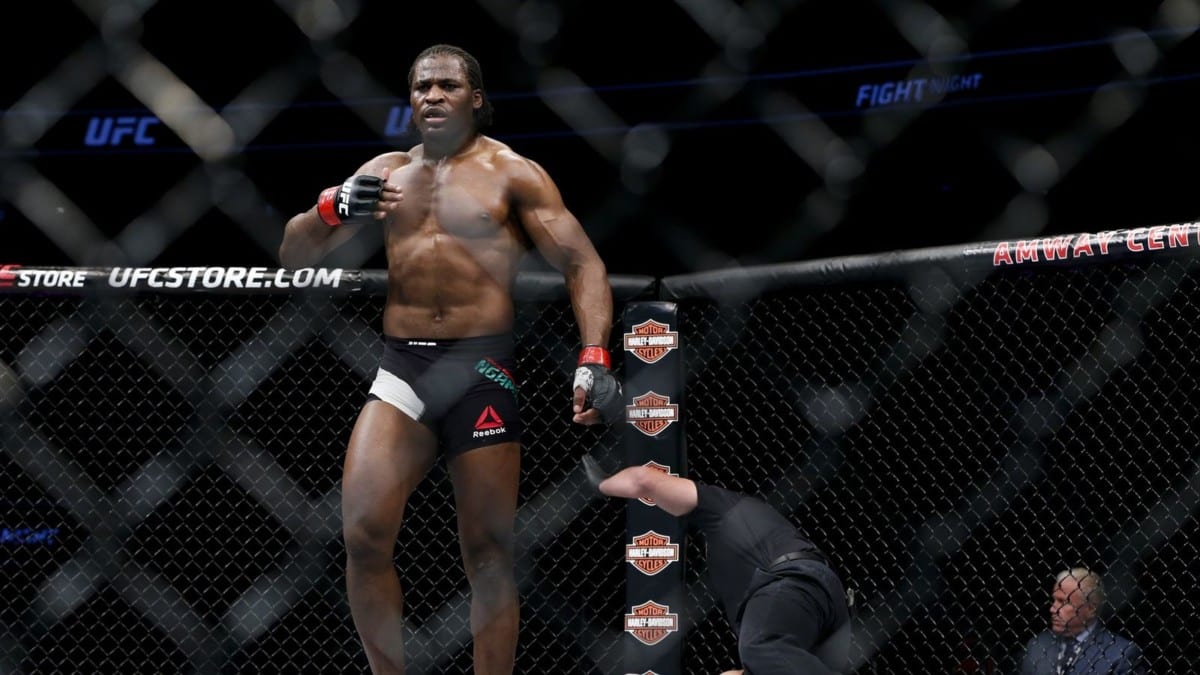 Heavyweights Derrick Lewis and Francis Ngannou both picked up victories last night in the UFC's second visit to New York inside of a month, though one performance was a lot more impressive than the other.
Lewis started slow, giving up early rounds to Russian opponent Shamil Abdurakhimov, before earning a stoppage victory in the fourth via strikes after a takedown. Despite a win in his first ever UFC main event, Lewis was unimpressed with his performance.
"That was one of my terriblest fights of all time", Lewis said post-fight. "I just tried to pace myself, but that was some bullshit."
Lewis blamed his performance on an eye injury suffered during the fight which led to him seeing double and being unable isolate his opponent int he cage. Abdurakhimov employed a stifling strategy, going to the clinch whenever possible with the intention of taking down his opponent where he would then look for a submission from the top. The Russian rarely diverged from this policy and was eventually warned in the third round by referee Dan Miragliotta for timidity.
In the fourth, it appeared as though Lewis was on the way to losing a decision before getting a takedown of his own, moving to mount and getting a stoppage via strikes.
Afterwards Lewis said that he intended to call out Travis Browne or Mark Hunt but his poor performance made him think again.
"I'm going to sit my ass down", he said.
Elsewhere, French/Cameroonian heavyweight Francis Ngannou overcame Anthony Hamilton with an impressive first round submission finish. Ngannou, known for his concussive striking game, showed that he has a lot more to him than just raw power and finished Hamilton with a kimura armlock after using the same position to drag his opponent to the mat.
Ngannou earned the submission at 1:57 of the first frame.
"This is something we drilled a lot because everyone thinks that I am only a striker," Ngannou said of his performance. "I wanted to show my submission game, and I want to fight someone in the top-10 so I can prove that I am ready for a shot at the belt."
Full Results from UFC Fight Night 102 in Albany, New York
Derrick Lewis def. Shamil Abdurakhimov (TKO Punches), Round 4 – 3:42
Francis Ngannou def. Anthony Hamilton (Kimura Submission), Round 1 – 1:57
Corey Anderson def. Sean O'Connell (TKO Punches), Round 2 – 2:36
Gian Villante def. Saparbek Safarov (TKO Punches and Elbows), Round 2 – 2:54
Justine Kish def. Ashley Yoder (Unanimous Decision)
Randy Brown def. Brian Camozzi (TKO Knees and Punches), Round 2 – 1:25
Gerald Meerschaert def. Joe Gigliotti (Anaconda Choke Submission), Round 1 – 4:12
Andrew Sanchez def. Trevor Smith (Unanimous Decision)
Shane Burgos def. Tiago Trator (Unanimous Decision)
Mark Diakiese def. Frankie Perez (Unanimous Decision)
Ryan Janes def. Keith Barish (Unanimous Decision)
Juliana Lima def. JJ Aldrich (Unanimous Decision)
Comments
comments