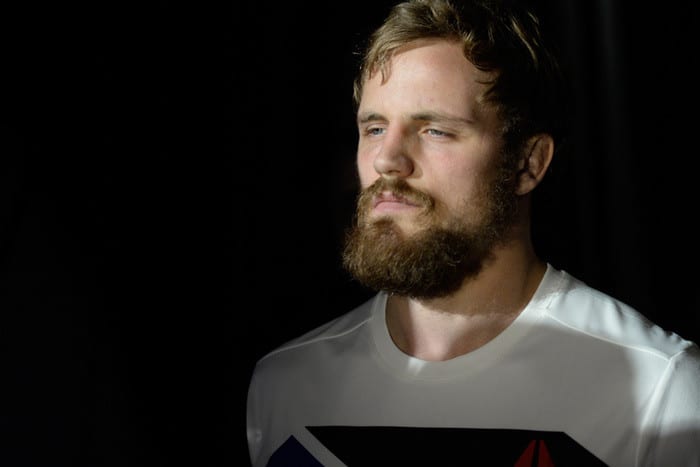 One the on-going narratives in mixed martial arts recently has been centred around the concept of weight-cutting or, more specifically, if the new laws implemented in mixed martial arts — the USADA ban on IV rehydration, for instance — is actually making it increasingly dangerous for athletes to successfully cut weight ahead of bout.
As MMAJunkie's Mike Bohn reported late last year, the number of UFC fighters who missed weight increased dramatically in the latter part of 2016 after several athletic commissions across the United States implemented a change in weigh-in procedure, allowing the athletes a two-hour window to make weight in the morning of the day before a fight. The theory being that fighters would have more time to successfully rehydrate but, according to UFC welterweight Gunnar Nelson, the entire process of cutting weight should be abolished.
Speaking last year to FOX Sports, Nelson said: "I don't like this whole weight cutting thing. I don't like the idea. I think they should slowly get rid of it, or just quickly. I think it's a bunch of bollocks.
"Why do two men the same size cut up to 15 kilos, weigh in the day before and then walk in the ring and put on 10 or 12 kilos the next day? Why is this happening? It makes absolutely no sense.
"Almost everyone cuts a huge amount of weight just for people to kill themselves for a few kilos. It's nonsense; let's face it."
It has long been speculated that Nelson could cut weight to make the UFC's lightweight division, a move which would give him a noticeable size advantage over several of his would-be opponents but Nelson — who cut just six-pounds ahead of his last bout in the Netherlands with Albert Tumenov — says that the long-term health concerns of continuous dehydration are worrisome.
Failed weight cuts have decimated some recent UFC cards. Fighters like Kelvin Gastelum and Johny Hendricks have been forced to move up a weight class due to missing weight, while Renan Barao famously had to withdraw from a bantamweight title fight with TJ Dillashaw after fainting during his cut and hitting his head on a bathtub.
"I think it definitely affects guys long term if you're doing it often", Nelson says. "We've seen guys have been driven to the hospital, guys fainted and stuff like that. It's taken a few fights off cards just on the day of the weigh-ins because somebody's collapsing. It's pretty obvious that it isn't good. I think they should try to figure out ways to get rid of it."
"Most people would agree with me if everybody would just go in there, fight their own weight. It wouldn't really be a problem."
The Icelander says that if it were up to him, fighters would compete at their natural weight, a move which he suggests would lead to more exciting — and less dangerous — fights.
"They should get rid of it", he says.
And with mounting evidence to back him up, who's to say that Nelson is wrong?
Comments
comments