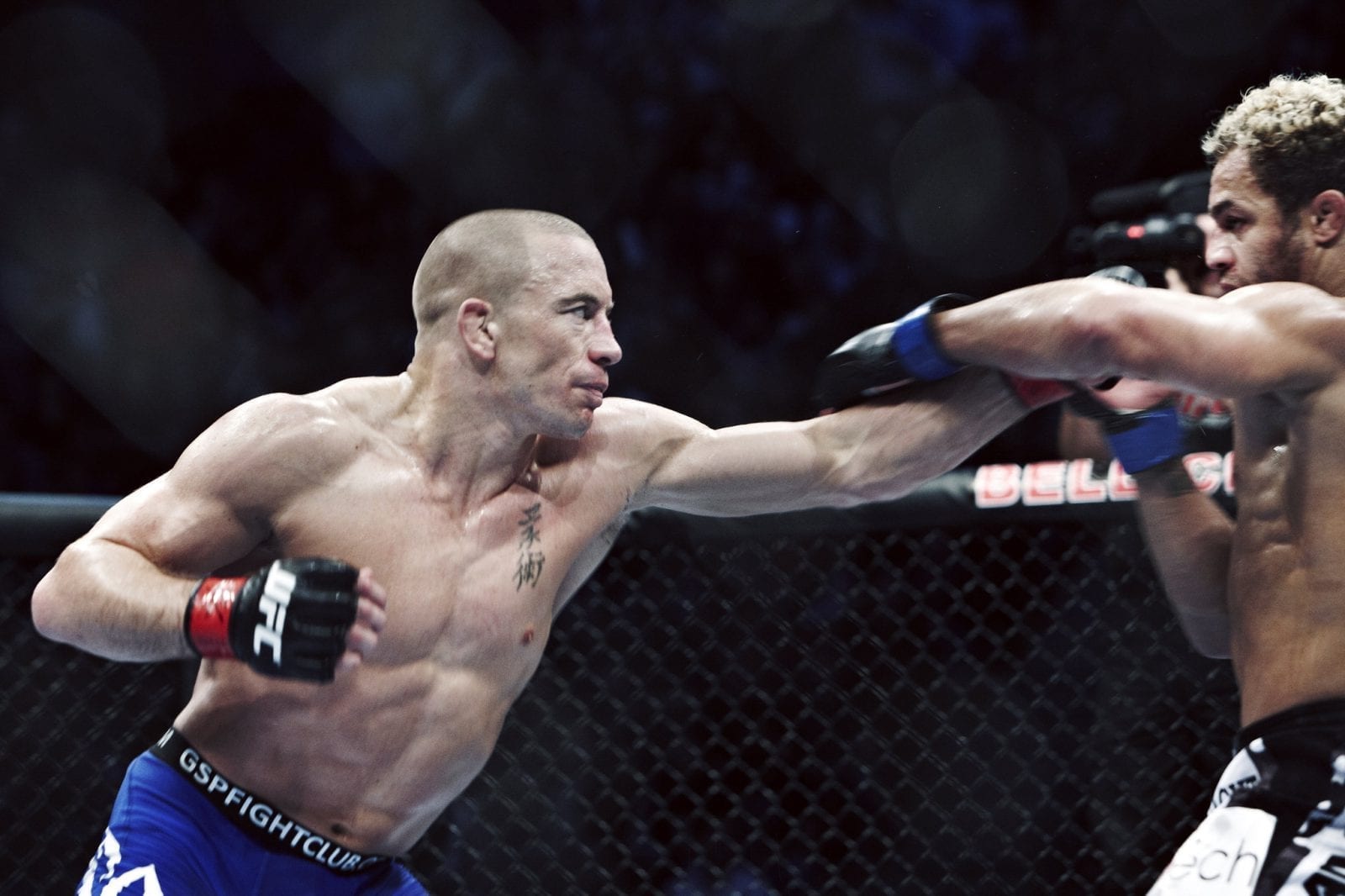 Despite being away from the game for more than three years, Georges St-Pierre remains a central figure to the mixed martial arts landscape.
St-Pierre, who was recently announced as one of the central figures in the MMA Athletes Association (MMAAA) alongside the likes of Donald Cerrone, Cain Velasquez and TJ Dillashaw, has revealed that he is back in negotiations with the UFC for a return to the Octagon.
Speaking to Michael Lansberg on TSN as reported by MMAFighting.com, the legendary welterweight fighter confirmed that he will indeed fight again and that the UFC have been in contact with him since he was confirmed as one of the initial members of the MMAAA.
"No, no it doesn't mean I'm done with the UFC", St-Pierre said when asked about what his involvement with the MMAAA would mean for his UFC career. "Like other members, like Cain Velasquez, Tim Kennedy, Cowboy Cerrone, they're all seasoned fighters. Doesn't mean I'm done. Actually, the night that we launched the association we received a letter, Rodolphe [Beaulieu] received a letter – my agent – from the UFC lawyer saying that they want to renew the negotiation with me because at the point where I was before the negotiation, the communication was cut. So we didn't have any kind of communication."
This latest news comes in the wake of St-Pierre declaring on an episode of The MMA Hour in October that he considered his UFC contract null and void and was entering free agency, which would have allowed the fighter to negotiate with the UFC's rival promotions.
Since then St-Pierre had undergone negotiations with the UFC regarding being booked to compete on UFC 206 which takes place this weekend in his native Canada. Talks stalled, reportedly over money, but St-Pierre remained training in the event that he might receive notice to fight at the event on short notice.
However, the call never came — even after light heavyweight champion Daniel Cormier was removed from the scheduled main event against Anthony Johnson.
"The thing is, I was training until a very recent point", St-Pierre explains. "I was fighting, I was training to get ready for a fight in Toronto. I really thought it would have worked out and in case someone got hurt, they would have maybe called me or I thought maybe they would have called me at the last minute, just to take me off guard. I didn't know. But one or two weeks ago I pulled the plug, I knew it was not happening.
"I was hoping earlier to get on the card for Toronto but it's not happening and now I guess they'll keep talking and we'll see if they can come to an agreement. Same story as before but now I have more options. I'm [a] free agent. I don't have to be in the UFC. I could go somewhere else."
The status of St-Pierre's contractual obligations with the UFC is a source of contention between the two parties. The UFC stated that they "reserve their rights under law" to St-Pierre's fighting rights, stating that the contract he was working under before he walked away from the sport in 2013 is still valid — a notion which GSP refutes. St-Pierre even says that the UFC are preventing him from attending this weekend's event.
"I will not be there but I remain a big fan. I'm gonna watch some of my teammates fighting on TV from my home but I won't be there unfortunately. I wish I would have been there. The best place would be in the cage. I was hoping to get it done against Michael Bisping and he was hoping it too but unfortunately the conditions that they were offering me for the contract were unacceptable. Any smart person would not have accepted it. A person who would have accepted it is scared and has no choice but I'm healthy, I'm wealthy, I have the choice. I don't have to take something that is not advantageous for me. I mean equitable. Because now I was taking all the risk and it was not equitable."
Given St-Pierre's role with the MMAAA, his negotiations with the UFC will now have a far deeper resonance and it seems that he will be negotiating with additional requests for royalties, rights and more.
"Who or what kind of person would I be if I'm taking a fight under conditions that are not equitable and I'm fighting for the other person that is trying to make their condition of work better. So if I do something, it's smart to do it for myself first and then I try to do it for the other person. That's my mentality.
"Even though I didn't really have my fair share I ended up healthy and wealthy which is very rare in this business. Trust me, it is very rare. And I'm very happy, I feel very blessed to be in this situation and be able to fight for these guys that don't have the same condition."
Comments
comments