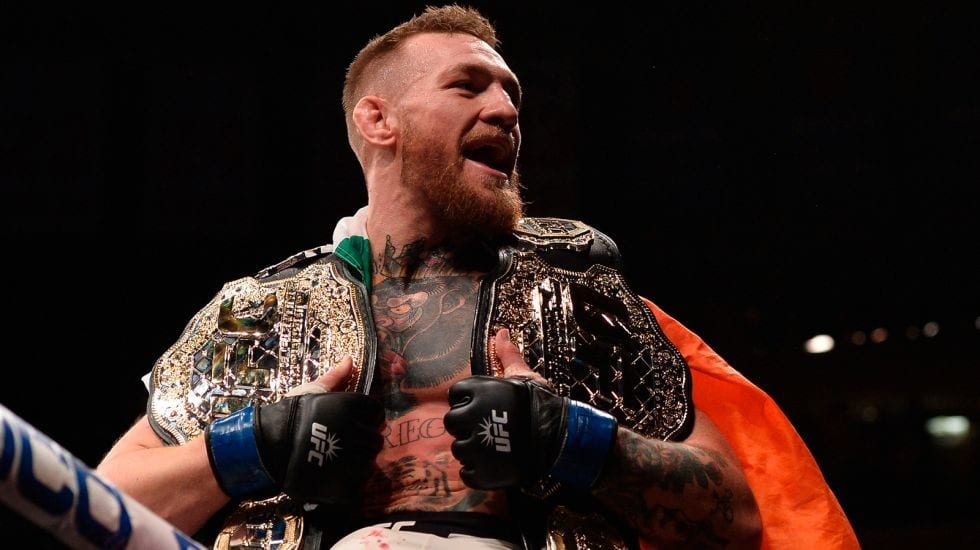 Chalk another one up for Conor McGregor.
The Irishman has taken the world of mixed martial arts by storm since debuting with the company in 2013, rising through the ranks to become the UFC's first ever simultaneous two-division champion after a second round knockout of Eddie Alvarez at UFC 205 last month.
McGregor's impact on popular culture has been immense. He is one of the few crossover stars to emerge from mixed martial arts, landing on magazine covers, late night talk shows and even a bagging a starring role in the latest Call of Duty video game.
His global appeal places McGregor firmly among the most famous sports stars in the world — something which has been recognised by Fansided.com, who have placed him in their annual Fandom250 list, which charts the fanbases of some of the most famous names across the world of sports and entertainment.
McGregor placed at #147 on the list, the highest mixed martial artist to be included, ahead of the likes of Brock Lesnar (214) and Ronda Rousey (230) and is the eleventh ranked sports star on the planet, with only the likes of LeBron James, Lionel Messi and Muhammad Ali (among others) above him.
They write: "Conor McGregor has the most loyal and faithful fans in combat sports. As Mark Wahlberg put it, the UFC's reigning lightweight champion has become "the face of the UFC," and that's largely due to his signature trash-talking, over the top fashion sense and natural charisma.
"Hailing from Dublin, McGregor's loyalty to the people of Ireland is fierce as he carries his country's flag with him wherever he goes. His fans repay his Irish pride by traveling all over the world to see their champion do battle. When McGregor fought in Las Vegas at UFC 202, the entire strip was a sea of green, white and orange.
"As McGregor so eloquently put it following his win at UFC Fight Night 46 in Dublin "we're not just here to take part, we're here to take over." To say the man known as "Notorious" has lived up to his words would be an understatement.
"In terms of actual fighting, McGregor's wicked stand up attack, along with an underrated ground game, took the UFC by storm when he broke into the promotion in 2013. Flash forward three years and McGregor is headlining the biggest events in UFC history while shattering gate and pay-per-view records every time he steps into the Octagon, in large part because of his loyal fans."
It's hard to argue against that.
You can view the entire Fandom250 list over at Fansided.com.
Comments
comments