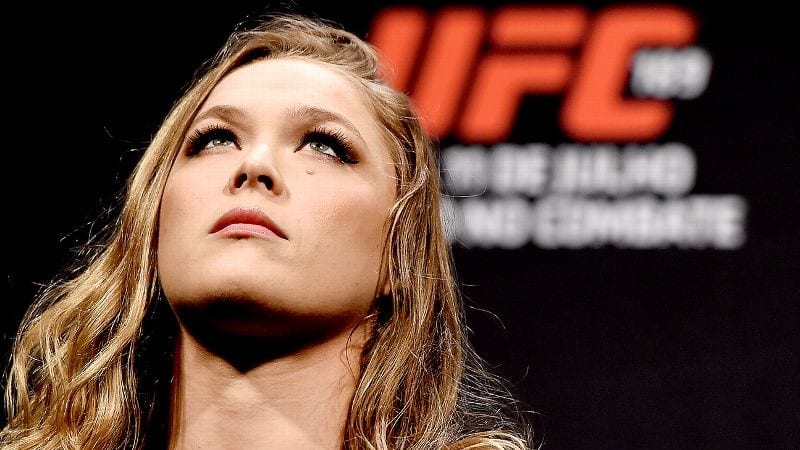 Ronda Rousey may be back, but she cuts a different figure from the woman we once knew.
The former woman's bantamweight champion was once arguably the highest profile figure on the sport, transcending MMA and becoming something of an icon. Her beauty, her intelligence and her ferocity all coming together to make a captivating star for both the mainstream and hardcore MMA fans.
But, as the star grew brighter, the strain got harder. By the time Rousey came to defend her title against Holly Holm last December, the media duties had grown too demanding, and she began to struggle. She lost, and disappeared from the spotlight.
With her return, as many have suspected, Rousey doesn't intend to be put through the same pressure (or "carwash" as she put it) again. She's back to fight, win and that's about it.
"I don't really have to," Rousey said on Conan, regarding media commitments. "I've done a lot of learning in this last year and I've learned that the views I get or the money I make really doesn't mean anything for me or my happiness. Now that I know the women's division is secure, I don't have to do that anymore. I choose not to.
"It's not really something that I get a kick off of. Like, 'Ooh, I went to spend 12 hours at ESPN and talk shit all day.' That's not really what I want to do. I want to play World of Warcraft."
Similarly to her appearance on Ellen last month, discussion of MMA was minimal, with UFC 207 opponent Amanda Nunes getting just a short mention.
When host Conan O'Brian informed Rousey that the Brazilian anticipated a first round knockout, Rousey responded matter-of-factly.
"Yeah, well she kind of has to say that, because everyone knows she gasses out in the second," Rousey said. "So she has to tell herself that, 'It's gonna happen first round.' What else is she gonna tell herself?"
Comments
comments