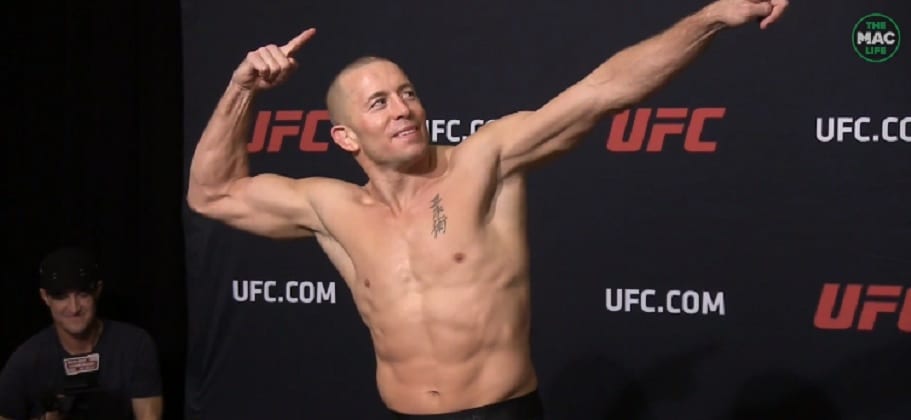 In the history of mixed martial arts few fighters have done things quite as by the book as Georges St-Pierre.
The Canadian icon, who is one of a select few to have held UFC world titles in two different weight classes, never missed weight in his Hall of Fame career, and rarely put a foot wrong both inside and out of the Octagon. From 2006 until the end of his career in 2017, GSP fought in 14 world title fights — and he even hit championship weight for one non-title bout during that spell against Josh Koscheck at UFC 74.
And St-Pierre, faultless on the scale throughout his career, had a few words for Khamzat Chimaev after his dramatic weight miss which caused chaos at last week's UFC 279.
"He needs to make weight," St-Pierre said of Chimaev to The Schmo, via MMA Fighting. ""When you miss weight it's a big disrespect not only to your opponent but to the sport. But we don't know what happened. Maybe there's a reason, maybe there's a medical reason or something, so when you don't know, you don't know. But for sure, in the future, if he misses weight another time, maybe that will prevent him from having a title shot."
The true fallout of Chimaev's weight miss has yet to be seen. His coach, Andreas Michael, has said that Chimaev has had a harder time on the scales since he contracted a serious case of Covid-19. Additionally, the UFC may well be hesitant to consider Chimaev as a title shot candidate at welterweight if there are concerns as to his ability on the scales.
"Maybe give him the chance to go back at 170 if he wants to, but he can't miss weight," St-Pierre added.  "Missing weight, it's hard to forgive. As a fan, I would like to see Kamaru Usman get revenge because if anyone deserves it, it's him. Maybe perhaps Chimaev has a shot against the winner of this fight [with Leon Edwards]."
Finally, St-Pierre commented on Nate Diaz's exit from the UFC with a win against Tony Ferguson: "I'm very happy for him. He came out on top, beautiful. Whatever he does next, it's up to him. But he's got the power to choose what he wants to do and he's gonna be paid accordingly. You need to be smart in this business and what I'm saying to the young fighters, it's that you should retire from the sport, not let the sport retire you."
Comments
comments