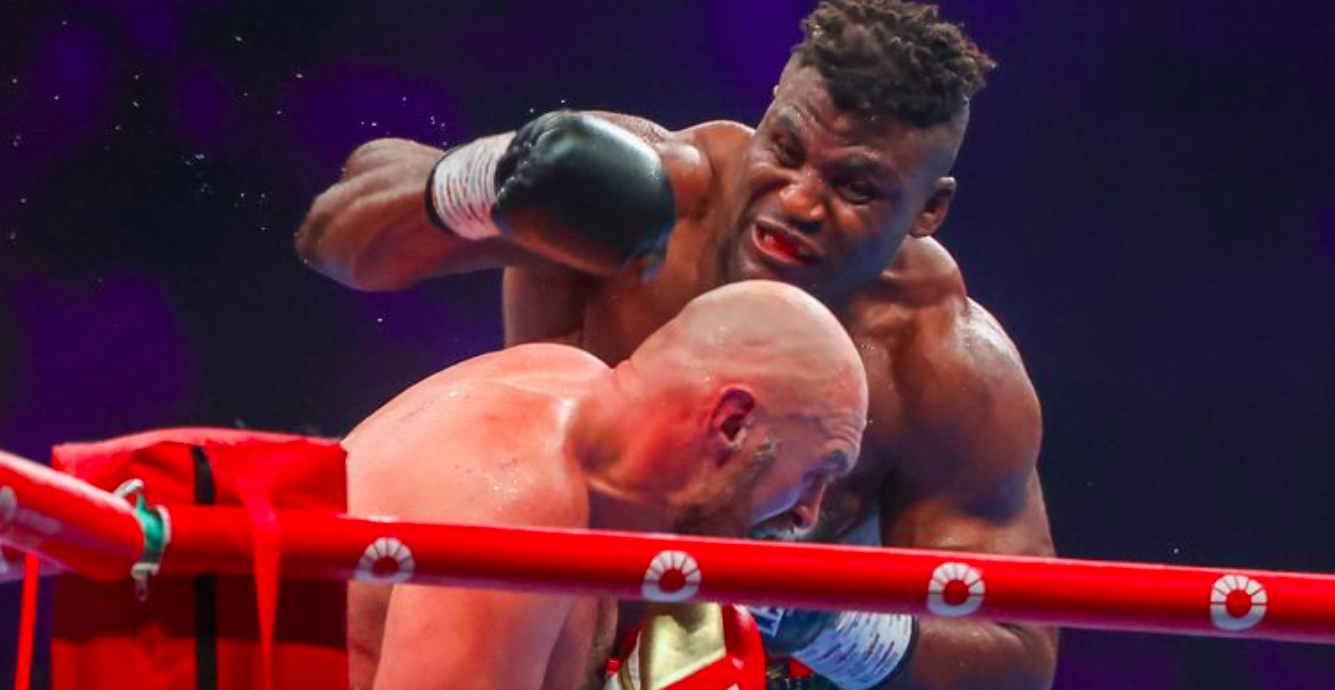 Francis Ngannou wants another crack at WBC heavyweight champion Tyson Fury.
Ngannou, who is expected to be a ranked boxer when the WBC releases its next rankings, came close to shocking the world in his 10-round boxing match with Fury last weekend in Riyadh, Saudi Arabia. Afterwards, though, Ngannou said that the achievement of only losing in a split decision to the unbeaten champion in a fight in which he toppled the giant 'Gypsy King' in the third round left something of a bittersweet taste in his mouth.
The cross-codes star certainly has options for his next bout, be it in the boxing ring or a return to mixed martial arts under the banner of the PFL, but speaking to TMZ 'The Predator' said that he has his eye on a second showdown with Fury for his next fight.
"The rematch. The rematch is what I want next the most, because as of right now, I feel like there are a lot of options for me, but I want to choose wisely," Ngannou said to the publication, as noted by Middle Easy.
"I will go for the rematch first. Going into the first one, there was a lot of questions, there was a lot of uncertainty for boxing, but going into the training camp, there was a lot of unknown. I think this fight from the beginning of the camp to the leading up to the fight was a lot of experience that will definitely help me a lot for the second fight."
Fury is widely expected to face Oleksandr Usyk in February in a fight which will unify the major titles in boxing's heavyweight fold — and if his preferred opponent is available, Ngannou said he could take an MMA fight to tide him over.
"My best scenario in boxing is to wait for Fury," he said. "I mean, if Usyk can step out and let me fight Fury, then I fight Fury. (Or) I let them do whatever they do, I go back, maybe do some MMA, and come back and take some people in boxing. I'm planning to fight twice next year, maybe February or March. If (Fury) doesn't work, I can still fight February or March MMA, and then expect by the end of the year to get ready for the boxing match."
And as for the controversial elbow thrown by Fury midway through the fight, Ngannou said that he didn't intend to appeal that or the result of the contest.
"I saw the elbow, the elbow was what round, sixth or seventh round? The ref didn't say anything about it. In the locker room, the commission said no clinch and this and that," he explained. "Even Tyson Fury's team said they know I'm an MMA guy and would do this, at the beginning when we were getting close to the clinch, it was break… To be honest, I don't think I was fairly treated.
"That is something that is very complicated. Inside the ring, I didn't know exactly what happened in the fight. My corner and coaches said I won… Who am I gonna appeal to? I have no chance. I think that's just another way of humiliation," Ngannou said.
Comments
comments