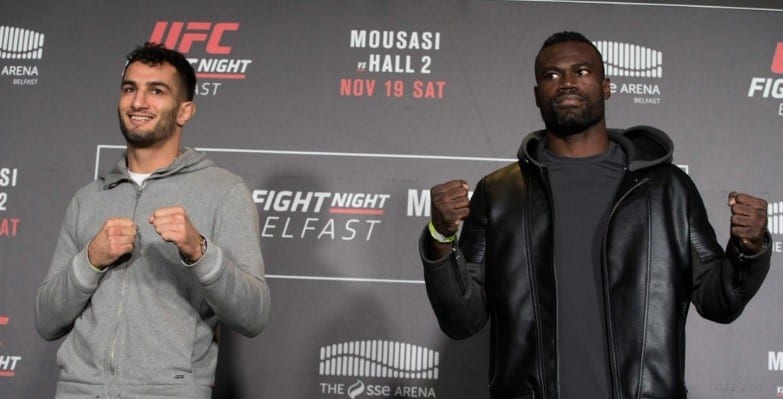 It is a high stakes main event at UFC Belfast when Gegard Mousasi and Uriah Hall face each other for the second time this Saturday. Their first meeting in Japan in September of last year ended with a spectacular come from behind win for Hall, who landed a spinning kick to the chin of Mousasi before following up with a jumping knee for the TKO victory.
Up until that point in the second round, many observers had Mousasi winning the fight.
"I got caught. It was a fight", Mousasi said to TheMacLife.com "You live by the sword and die by the sword. This is the sport, the best man doesn't always win but now it's time to settle the score."
For Hall, this sequel represents a chance to underline his first victory and place himself back in the upper echelon of the middleweight division.
"I definitely think this win will get me back up there", Hall said. "Gegard is motivated, man. It's an interesting match-up. First of all, he's one of the best. I can't take that away. For him, it's revenge. For me, it's an opportunity.
"The first time we fought he was ranked higher, I wasn't ranked at all. But to me numbers don't really mean anything."
Mousasi has won three straight fights since losing to Uriah Hall more than a year ago but, as he says, the loss he suffered in Saitama has been a welcome learning experience for the Dutchman.
"I'm not going to rush it. The knockout will come when it comes. I think that's the big difference, I used to look for the knockout. With Uriah Hall last time, I was looking to finish him. You leave yourself vulnerable. When it's time to finish him, I will finish him.
Comments
comments