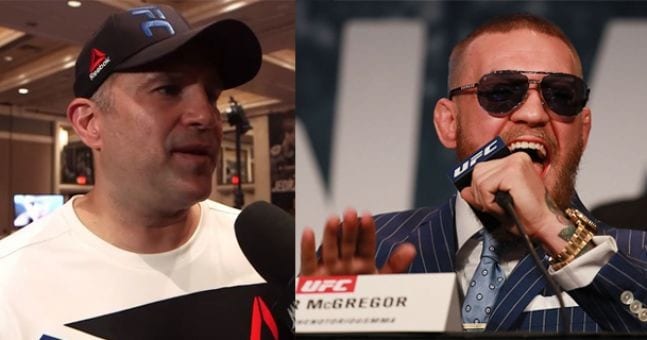 While Eddie Alvarez may be making light of Conor McGregor's abilities at UFC 205, his coach Mark Henry certainly isn't.
Henry has had an odd role in the bout's build up to now, having found himself at the centre of a media storm after criticising John Kavanagh and his abilities to coach. Indeed, the tension drew even more attention when McGregor himself simply said "fuck Mark Henry" at the UFC 205 press conference back in September.
But while McGregor may be less than impressed with him, Henry has recently found himself becoming exceptionally complimentary about the Irishman's abilities.
"Nobodies a fool, Conor's amazing" Henry said, speaking with Submission Radio. "In my opinion, he's got some of the best hands. Take away my guys, maybe the best hands I've seen in MMA, and you know, I'm going to be partial to my guys. But he has some of the best hands I've ever seen.
"His preciseness, his power, his speed, knowing where the guy's going to be, he can adjust his punches. He can slide back, he does those slip lefts, he's got the beautiful right uppercut, slide off uppercuts to the left. Even his wrestling, I've seen him do some great defence against [Dennis] Siver, when he peeled out with his legs.
"I think Conor's great all around man, he's impressive. It's going to be a great fight."
While it's odd to see a coach being quite so complimentary of their opponent days before fight night, it's a welcome change from any previous ill-tempered barbs.
Comments
comments