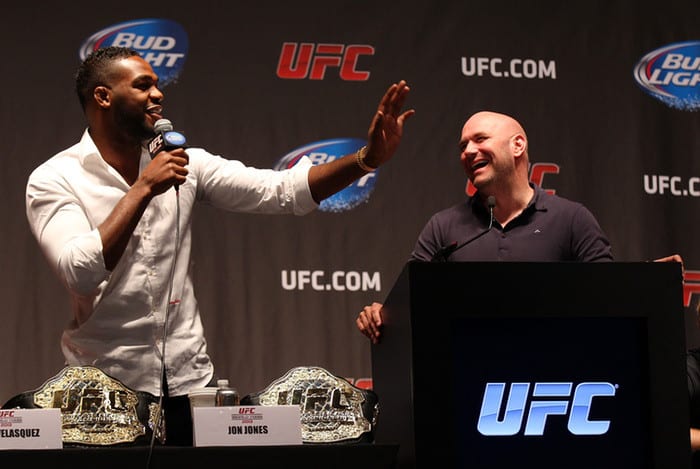 Jon Jones' journey back to the Octagon is shaping up to be a long and difficult one.
After receiving a one year suspension by USADA for a failed banned substance test, it was today announced that UFC President Dana White had Jones stripped of his interim light heavyweight title, after feeling that it didn't "make sense with all the stuff that is going on for him to still be the interim champion."
Jones' repeated extracurricular troubles have given the UFC plenty of headaches, with several events now having to be altered due to Jones' personal life — most recently and notably was UFC 200 in July.
Because of those issues, White believes that should Jones return, he may not be treated as the talent he is, believing him to not be worth the risk.
"I'm starting to not become optimistic about what's next for Jon Jones," White said on ESPN SportsCenter. "I think Jon has a lot to prove to me, to the fans, and definitely to himself. He's proved everything in the Octagon. This kid could have been one of the greatest ever. I mean, I believe he's the greatest talent we've ever seen.
"But in being a great talent, it has to be great in the Octagon and outside of the Octagon. And he has failed miserably. I don't know if I have the confidence in him to headline an event with him again, because it costs millions of dollars. We put millions of dollars into the advertising and all the promotion. And I don't have the confidence in him to headline a card these days."
While Jones' USADA suspension means he'll be eligible to return to competition next July, he is yet to appear in front of the Nevada State Athletic Commission to receive their punishment.
Comments
comments