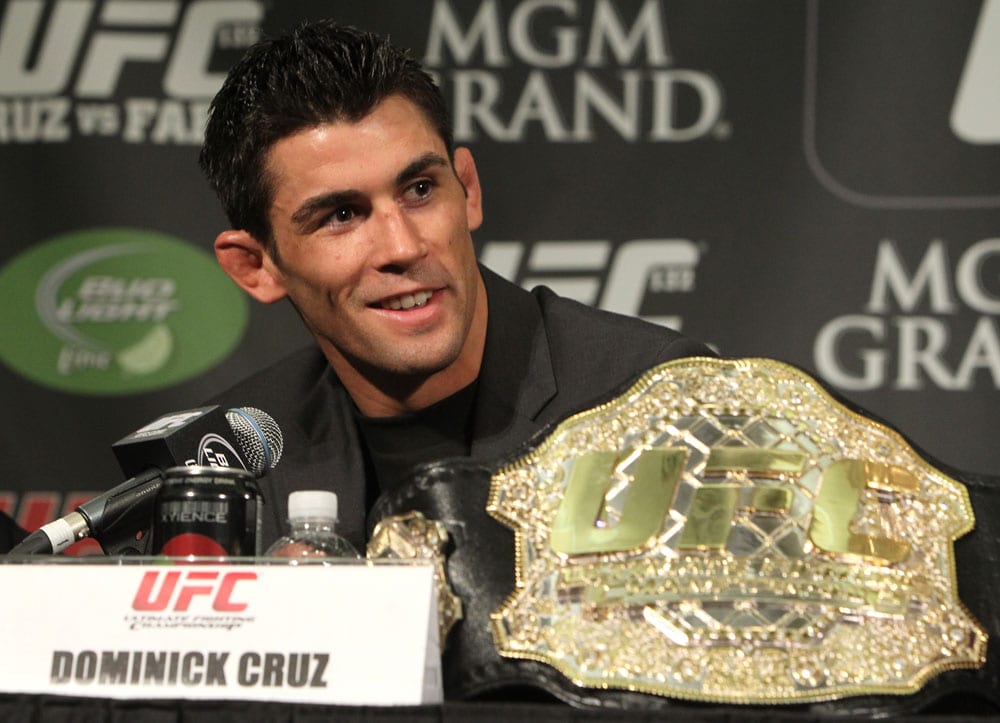 UFC Bantamweight champion Dominick Cruz seems to be settling back into his role as champ. Coming off his win against Urijah Faber at UFC 199, the Dominator now looks to go to battle with another Team Alpha Male prospect in Cody "No Love" Garbrandt.
Garbrandt, who is set to take on Takeya Mizugaki at UFC 202, has made a point of calling out Cruz in the past and will no doubt be in title-contention with a win next week.
"I've visualized myself knocking that dude out since I was 16 years old. When he was in the WEC, that's a guy that I knew I was going to lock horns with one day, and now it's surreal because it's almost about to happen"
"So I have been getting ready for him mentally; putting in the physical camp in and getting the call. He's a great fighter, but with my style I will knock him out 10 times out of 10."
Cruz, who has played down the young fighters accomplishments, now seems to welcome the idea of going 5-rounds with 'No Love'.
"I like Garbrandt because one, he's Team Alpha-Fail, and two, he runs his mouth, he's an emotional guy, he's got a goofy part in his hair and a ton of tattoos so he thinks he's tough,"
He went on to say, "All of those things together make for an interesting fight. The fans get behind Cody. I've gotten a lot of tweets about him, he's got a lot of fans because he's been riding the coattails of Urijah Faber for a while now."
A match-up with Garbrandt's one-punch knockout power and Cruz's famed movement would no doubt go down a treat with fight-fans.
Written by: Cillian Cunningham
Comments
comments