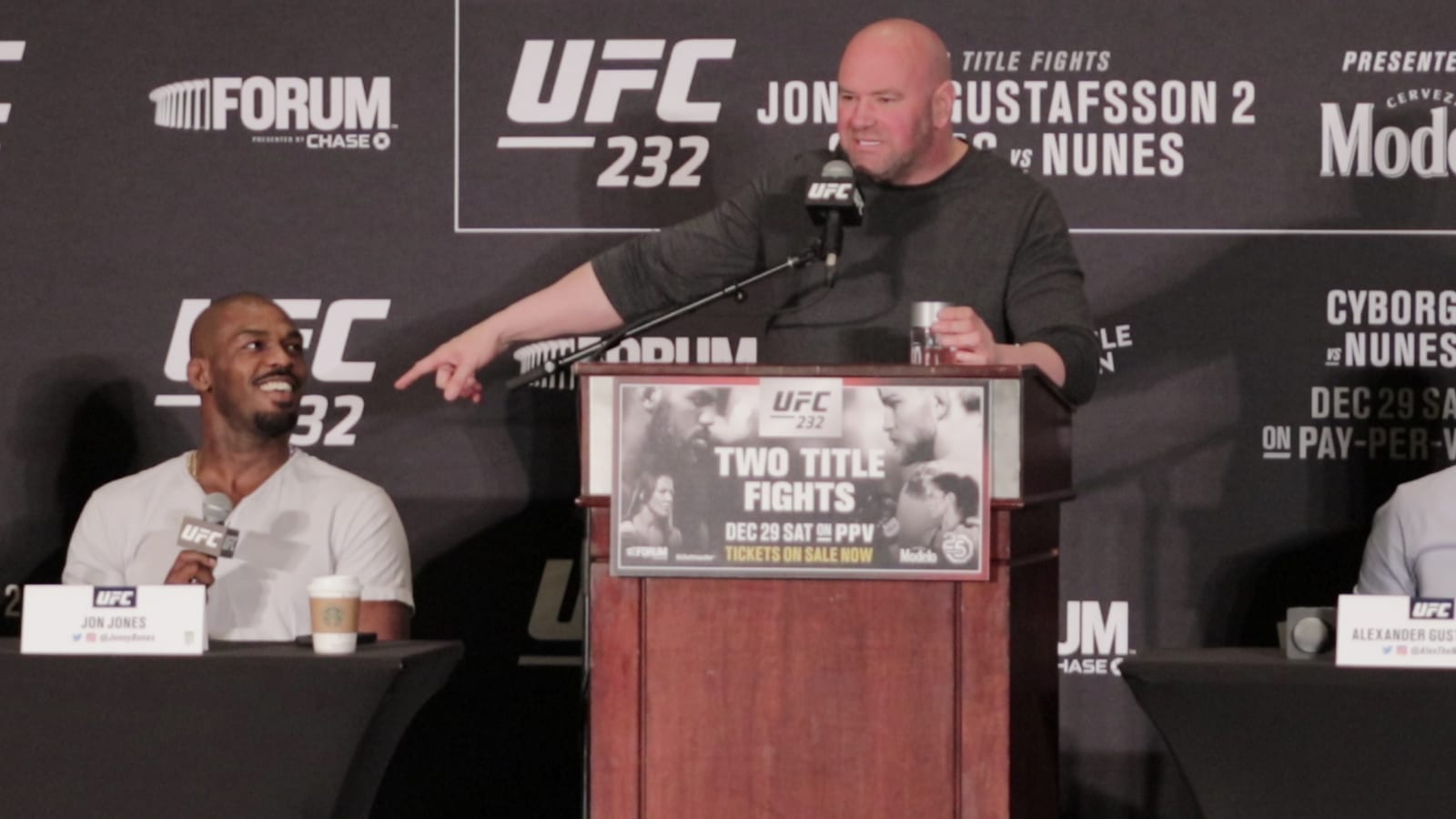 Dana White has been in the Jon Jones business long enough to understand that there are no surprises when it comes to the UFC light heavyweight champion.
White has received many a late night phone call over the years regarding Jones occasional transgressions outside of the cage, some of which have temporarily cost the fighter his status as an active fighter, but since returning to action last year Jones hasn't skipped a beat.
He has defeated Alexander Gustafsson, Anthony Smith and, more recently, Thiago Santos in the last eight or so months, making this the most active period of his career in eight years but a recent battery charge levied against the fighter stemming from an incident at an Albuquerque strip club hasn't surprised Dana White as much as it once would have.
"It doesn't faze me any more," White said to the media in Edmonton ahead of UFC 240. "Every time we do a fight with Jon, I'm wondering if it's going to be his last. "It has nothing to do with money. It's what's going to happen outside the octagon."
Jones has denied any wrongdoing related to the incident on social media, while his spokesperson addressed the charge as "malicious lies". Dana White, for his part, says the truth is likely in the middle of the two separate accounts of the incident.
"There's two sides to the story, and the truth is somewhere in the middle, I'm sure.
"If you look at the lifestyle he's lived the last seven, eight years of his life, and what he comes in the octagon and does," White continued. "He just fought Thiago (Santos), who's a (expletive) animal, and wants everything Jones has, stood in there – I don't know if I've ever heard of more damage to one knee in my life. (Santos) fought and was still kicking with the leg, and Jon Jones beat him. It's unbelievable how good Jon Jones really is. It's the minute he steps out of the octagon, you never know what's going to happen.
"He's in trouble right now."
Comments
comments