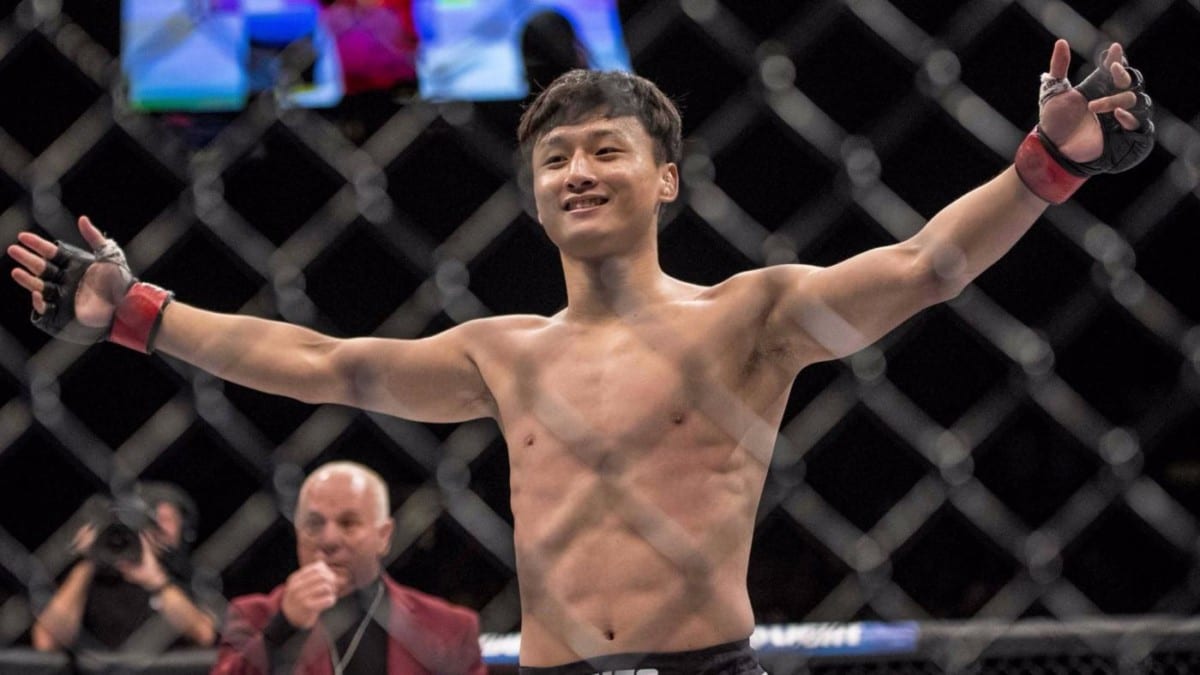 In August of 2013, 'The Korean Zombie' Chan Sung Jung appeared to be one of the most promising featherweight fighters in the game.
After three wins in his first three UFC bouts, Jung was awarded with a title shot against José Aldo and despite a strong showing the Korean fighter was finished in the fourth round due to a combination of Aldo's strikes and a dislocated shoulder suffered shortly before.
After that fight, and due to the sheer grit he showed in the cage, Jung was thought of by many as one of the featherweight division's elite fighters — a whirlwind of aggressive brawling and intricate submissions who would be a match for anyone in the 145-pound fold.
He hasn't been seen since.
Jung's absence from the fight game isn't down to injury, suspension or anything else which can delay a fighter's return to the cage but to the mandatory military service that every South Korean male between the ages of 18-35 has to complete. While Jung's return to the UFC has been set (he faces Dennis Bermudez next February in Texas), the South Korean conscription policy is a hurdle which every athlete from that country will have to overcome.
And you can include Doo Ho Choi on that list.
'The Korean Superboy', considered by many to be one of the most exciting featherweight prospects in years, will make his fourth UFC appearance on Saturday when he faces Cub Swanson on the main card of UFC 206. Having earned three successive first round finishes in the UFC so far another quick victory, according to Dana White, would propel him towards the top five of the division and in the direction of a title shot one day. What cost, then, would be a three year absence from the sport for the 25-year-old?
Speaking to TheMacLife.com via his interpreter, Choi elaborated on what he would do if faced with military conscription.
"I try not to think about it so much", he said. "I've got about three years to play around. It is possible that I go to the military in three years but if I get to go then I know I can continue training within the military base, so I'm going to do that."
However, there are ways around the mandatory national service. The South Korean government occasionally hand out exemptions to athletes on the basis of excellence achieved in sporting fields, such as the South Korean soccer team who won bronze at the London Olympics in 2012. Every member of that squad, even those who only made nominal appearances during the games, were excused from conscription from the country still technically at war with North Korea.
If Choi achieves a high level of success in mixed martial arts, it remains to be seen if that would be enough for him to avoid military service — or if he would even want to. There is a culture in South Korea which looks down upon those who attempt to engineer a situation to skip their service, mostly aimed at celebrities, the wealthy and sports stars.
Soccer player Park-Chu Young was forced to hold a press conference to apologise to the public after exploiting a loophole while playing for French side Monaco FC which delayed his national service by a decade while Olympic soccer coach Shin Tae-yong says that his players feel a high degree of pressure in achieving success because of the military exemption issue.
If and when the mandated conscription affects Doo Ho Choi remains to be seen. If he rises to the position of champion, would that be enough for his country to exempt Choi of national service? Or would Dana White and the UFC even afford the fighter an opportunity to fight for a title with the spectre of a three-year break from the sport hanging high on the horizon?
Time will tell on that one.
Comments
comments