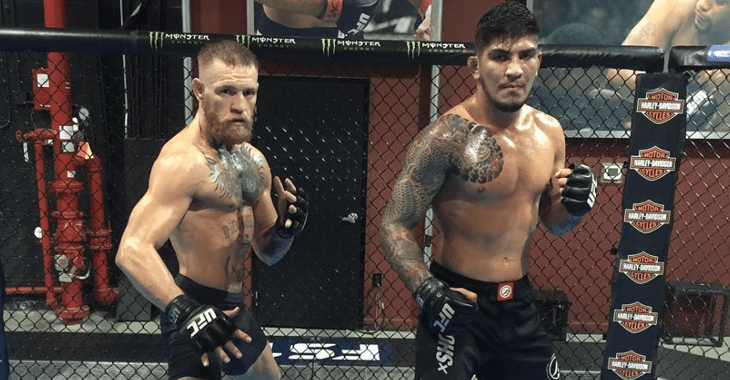 With the recent announcement of Khabib Nurmagomedov vs. Tony Ferguson at UFC 209 for the UFC interim lightweight belt, fans and pundits have (not for the first time) begun to wonder what a fight between one of the two against Conor McGregor would look like.
McGregor, the current UFC lightweight champion (and if you ask him, current UFC featherweight champion), is estimated to return to the UFC sometime in the Summer of this year. And, while it's not yet known who he'll face when he does, fans are looking forward to a McGregor-Ferguson or — particularly– a McGregor-Nurmagomedov main event.
But, while some would point to Khabib's wrestling ability as a potential danger for McGregor, that's not the case according to his teammate and protégé Dillon Danis.
"[Khabib's] too easily hit," Danis told Submission Radio. "If you saw in the Michael Johnson fight, he was getting like wobbled and rocked every time they were on the feet. So Conor is going to pick him apart like he does all the wrestlers. He hits you from everywhere and he kicks you in the stomach. And people don't see those shots on TV, like some of those teep kicks and some of the kicks to the stomach, but those take the wind out of you.
"And when you basically have to take someone down, it puts a different kind of feeling in your stomach ad in your gut when you have to take the guy down. The guy's beating you up on the feet, and when you go to the ground he's elbowing you. So I think Conor puts him away in probably one or two rounds with strikes."
And, while Danis looks forward to seeing the Russian and the Irishman square off as much as anyone, he wouldn't mind a crack at the famous grappling abilities of Nurmagomadov himself.
"His hands aren't that good, he's a grappler," he said. "So it would probably be a grappling match and I feel like I can submit him. His Jiu Jitsu's good, but it's not very technical. He's a little sloppy. So I feel like I would be able to finish him. But that could happen. But I'm not stupid either. I'm not gonna go to the UFC and probably fight Khabib in my first fight.
"But you know, down the road that would be a good match up I feel. He's not going to be undefeated anymore once if he fights Conor, so I'll be fine to give him another loss. That would be a good one. It'd be the first time you'd see Khabib on his back."
Comments
comments