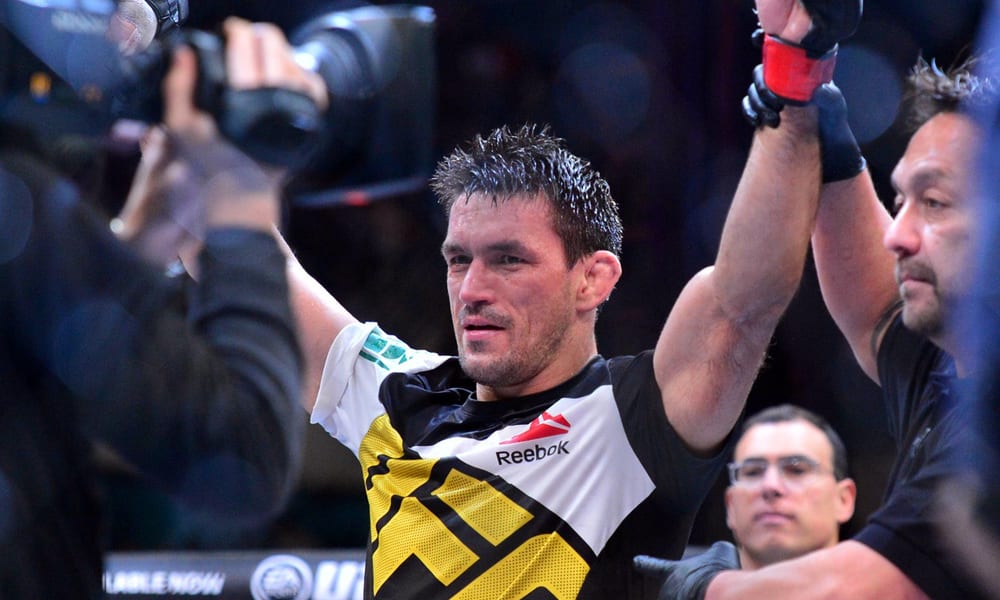 If Nick Diaz is returning to the UFC Octagon, Demian Maia won't be the one welcoming him back.
Rumours had begun recently that the two could potentially be meeting in the near future after UFC President Dana White appeared on the UFC Unfiltered podcast and stated he'd offered Diaz a bout with Maia, before stating that if Diaz didn't want that fight, he would offer it to Jorge Masvidal instead.
According to Maia, that's a no go. In fact, if there isn't a gold belt on the line, every fight is a no go.
Today, taking to his personal Facebook page, Maia made it clear that he doesn't intend on stepping back into action for anything other than the title shot he feels he has earned.
"This year I'll complete 10 years in the UFC, and I'm very proud of it," Maia wrote. "I'm the Brazilian fighter with most wins inside the octagon ever, which also make me very proud, and I'm also extremely proud to represent a martial art that became my own life, Brazilian Jiu Jitsu. Trough [sic] all this time in the UFC, my dream and goal has always been to be a champion. Everybody knows money is needed and important for everybody, but that was never what got me out of bed to train every morning. Compete, test myself, be the best I can be, represent what I love and try my best to become a UFC champion is what drives me forward, and because of that no other fight would appeal to me more than a title shot right now, not even a "Money Fight", which seems to be the flavor of the moment.
"Currently I'm in a Six Fight Win Streak, the biggest active winning streak in the [welterweight] division, with my last fight being a 1st Round win against a former champion, who had just challenged for the belt in his previous outing, and left considered by many the real winner of his title shot. After that journey at WW, it was natural for me to consider Dana's words justified, and the feedback I got from the fans everywhere was that I had earned my title shot no matter what.
"During the course of my WW journey, I have seen other fighters get title shots with win streaks that went from just 1 win, to three wins, and even people get a title shot coming of a loss. The only exceptions were Hendricks on his first title shot, and Wonderboy on his title shot, and I always went on record agreeing and understanding that they were the rightful contenders. During those times, I took fights, such as the Condit fight, as as sportsman I understood and agreed with the choices and decisions. Also, even though I was naturally frustrated, I understood that a draw between Wonderboy and Woodley warranted a rematch, even though I had a different take on their fight.
"But with their next fight just four weeks away, why can't I have my shot after they fight? If others got their opportunities with less wins, or sometimes close fights? If the next WW fight was months away, I could understand any urgency's, or a scenario where people feel other guys had to have their chance to claim a spot as the next contender right away. But the WW title fight is pretty much one month away, so It seems only natural to wait, and finally have my chance at WW, as this is what I really care about.
"I respect Masvidal, Lawler, and each and every MMA fighter that steps inside a cage or a ring. It's not easy at all, and it's way more pressure than many people can imagine. Nobody that does this for a living, and even more that get to this level, doesn't deserve a lot of respect. I have fought many of the top fighters at MW and WW, including maybe the best ever at his prime, and I never had any problem fighting anyone at the right time. I would fight anyone at WW For a belt right now, interim or linear, and when we got the Masvidal fight offered we explained our reasons for being frustrated and wanting to wait for a Title Shot, how the proposed card could impact us financially, but said we would discuss it and come up with a decision. We haven't even said "no" yet, when news starting to pop up that we had declined the fight. Fair enough I guess, as it's not what we had in mind anyways.
"The reasons why we had to think, and explained our frustrations are obvious I guess, and I have already touched on them a lot on all those lines above. I have been doing this for a long time, and my dream continues to be the same. There's nothing I want more right now than fighting for the belt, and with the rematch just weeks away, I hope that I hadn't understand wrong and that I can have my chance. All I want is an opportunity that others had, sometimes with much less done to get their chances. This is a sport in the end, and even though it's entertainment, there is no reason why it can't be treated as a sport and still entertain lots of people.
"Whatever happens next, I trust Dana and the UFC, a place I have been calling home for the last 10 years, and I'll continue on my path to become the best I can be. In life you can't be sure about where you'll get, so you have to treasure your journey. My journey continues, and we are learning something new every day."
Comments
comments