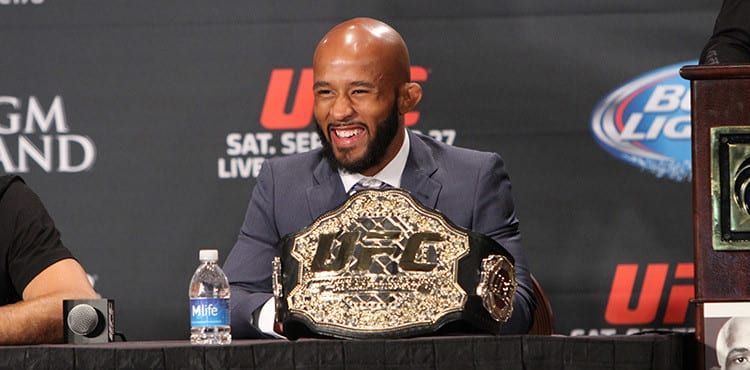 The words 'knee' and 'injury' are about two of the worst things that an athlete can hear come from the mouth of a medical professional, but that's exactly what UFC flyweight champion Demetrious Johnson heard after he received an MRI following his successful title defense against Tim Elliott earlier this month.
Luckily for him, though, the injury doesn't appear to be overly severe and most likely won't require surgery, as per a report from MMAFighting.com.
The champion revealed he had suffered a tear to his popliteus muscle which, in the grand scheme of knee injuries, could be considered one of the lighter injuries an athlete can suffer.
The injury should only keep Johnson on the shelf for a period of three to five weeks, though he suggests that he'll give the injury a lot longer than that to fully heal.
"I am going to let this heal and not rush back in there," Johnson said, later suggesting that April or May might be a reasonable time to expect him to return to the cage.
Initially, Johnson expected the injury to be more severe and says that it happened in the first round of his bout with Elliott — a round which Johnson lost, a rarity for the champion.
It's a relief for Johnson and his fans alike that the damage to his knee isn't as bad as feared and won't delay one of the best fighters in the game's return to the cage by too long.
Comments
comments