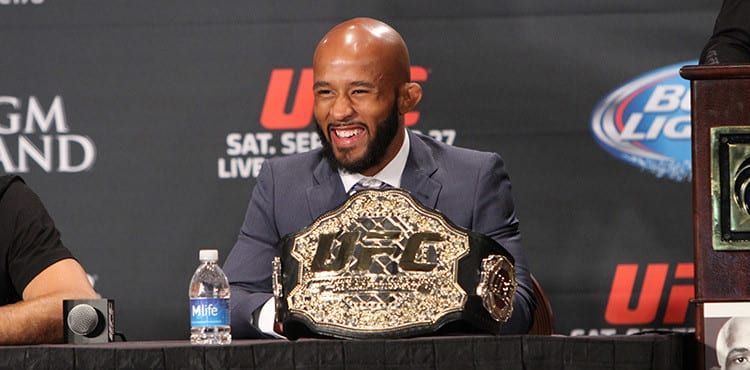 Demetrious Johnson is the UFC's undisputed 125-pound king, and it seems as if few have even come close to capturing the throne.
But, for someone as talented and exceptionally skilled as he is, Johnson doesn't appear to get the admiration and respect that some of his other UFC colleagues are given. While there are various theories on why that could be, the most commonly cited is his size.
Lower weight classes are often thought to receive less appreciation than their heavier counterparts, and with Johnson rounding out the lowest end of the scale amongst the men's roster, it could be perhaps that as a cause for his under appreciation.
Luckily for us, we could well get to test that theory, as Johnson says he's open to moving up in weight for a run at a second title.
"Yeah definitely, if the money's right," Johnson said, speaking to NESN.com. "It's always about the money aspect of it, you know. I need to have an incentive to go up and do it, you know.
"When you look at the best athletes around the world, a good example is Usain Bolt. He runs the 100-meter dash, 200-meter dash every single year at the Olympics, and he breaks his own record, but no one ever tells him, 'Why don't you run a 400? Why don't you run a mile? I mean, you're fast,' because he's always focused on his craft, which is trying to beat his record, and that's why I'm trying to do. I'm trying to beat my record. I'm trying to always improve myself, better myself and trying to beat Anderson Silva's record."
At the moment, Anderson Silva's record stands as the most consecutive (and successful) title defences with ten. Johnson stands one behind him with nine. Assuming Johnson fights twice this year, he will end 2017 as the man with the most title defences of all time.
Then, with that record under his belt, a move up to challenge the bantamweight champion would do plenty towards forcing the greater public to pay attention.
Comments
comments