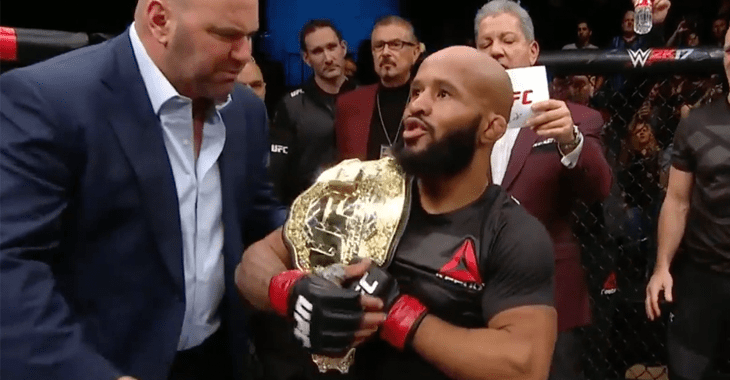 Now that he has successfully captured the all-time UFC record for the most successful title defenses, flyweight supremo Demetrious Johnson appears to have acquiesced to calls for the much-touted 'Champion vs. Champion' bout against 135-pound titleholder T.J. Dillashaw. 
'Mighty Mouse' defended his championship for a record eleventh time against Ray Borg last year, earning the plaudits for the consensus Submission of the Year in doing so. Such was his dominance at 125-pounds, numerous fans and analysts alike have spoken of a desire to see Johnson — a pound for pound great — to test the waters outside of the flyweight division, or invite fighters from bantamweight to make a challenge to his throne.
One such fighter is T.J. Dillashaw. Having regained the bantamweight title in a win against rival Cody Garbrandt in New York last November, Dillashaw renewed his calls to set up a blockbuster fight with Johnson — and, for what seems like the first time, Mighty Mouse appears open to the idea.
Speaking at a Metro PCS fan Q&A Johnson gave the clearest indication yet that he is in line to welcome Dillashaw to 125-pound.
"Recovery is going good," Johnson said of successful shoulder surgery done at the turn of the year. "I had rotator cuff (surgery), labrum and joint clean-out. After 11 title defenses and 12 championship fights, the old dog needs to get some rehab. I got it cleaned up.
"(With) six weeks recovery, we can get strong again, and hopefully T.J. Dillashaw can get this match done. Hopefully July, International Fight Week, on a big, big card."
His open flaunting of a match-up with Dillashaw comes in contrast to Johnson's statements on the potential bout when it was floated last year. In order to be receptive to the Dillashaw bout, which Dana White seemed to be very keen to make, Johnson issued his terms to the UFC. These included a guarantee that if Dillashaw didn't make weight, Johnson would be awarded both purses and the bout would be cancelled.
The UFC countered, saying that Ray Borg would be on hand to fight if Dillashaw encountered trouble hitting the 125-pound championship weight. The negotiations hit a snag and Johnson ended up facing Borg in his next fight.
"It's just the principle of a bantamweight coming down and skipping the line," Johnson said.
However, with the tides apparently changing, Johnson has his eye on the UFC's flagship International Fight Week in Las Vegas next summer as a venue befitting a match of this importance. We can only imagine that the UFC matchmakers are receptive to this too.
Comments
comments