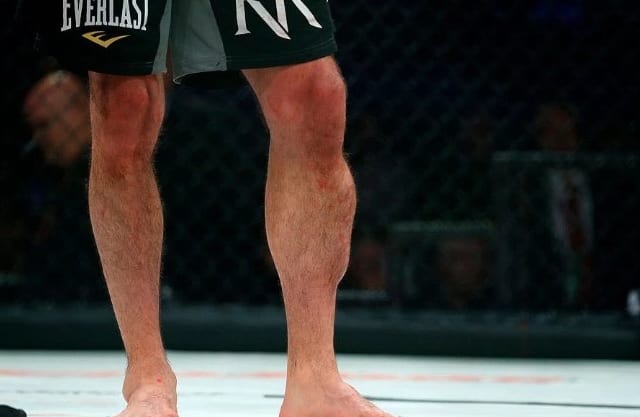 What is it with Rory MacDonald having to battle through hell in world title bouts?
On Saturday, MacDonald captured the Bellator welterweight title by defeating Douglas Lima by unanimous decision at the Forum in Inglewood, California but he wasn't left without some war wounds. In his last title bout against Robbie Lawler in the summer of 2015, MacDonald was left with a severely broken nose which prohibited him from competition for an extended period.
This time around he left with a world title.
Throughout the bout, Lima peppered the challenger with a barrage of leg kicks which eventually raised a nasty haematoma — a localized collection of blood caused by repetitive contact injury —  on the Canadian's left shin. MacDonald had to be carried from the cage after the bout to have his leg examined by medical personnel. It was confirmed afterwards that his leg was not broken and it is expected that MacDonald will recover fully once the swelling subsides.
Congratulations to my good friend and training partner and… New Welterweight Champion @rory_macdonald!!! He again showcased his amazing toughness and tenacity last night, a true warrior! pic.twitter.com/GBEjecMdej

— Georges St-Pierre (@GeorgesStPierre) January 21, 2018
UPDATE on my leg- not broken, just big hematoma. it hurts but it will fade

— Rory MacDonald (@rory_macdonald) January 21, 2018
Writing on Instagram, MacDonald said: "It was a great experience last night! Battling the entire fight with a bad leg injury. Looking back I'd loved to have done some things differently early on. In the end this is how it worked out, and unfortunately it was not my best performance.
"I do believe it was the fight I pushed myself mentally to keep moving forward more than any other. I believe that is a priceless experience as a martial artist to learn how to break down mental barricades and keep fighting for the win."
Elsewhere at Bellator 192 last weekend, Chael Sonnen advanced to the semi-finals of the heavyweight grand prix after defeating Quinton 'Rampage' Jackson by unanimous decision in the evening's main event. Sonnen will face either Frank Mir or Fedor Emelianenko in the next round.
Michael Chandler returned to winning ways at the event, earning the judges' nod against Goiti Yamauchi. It is expected that a rematch with current 155-pound champion Brent Primus will be next for the Bellator veteran. Finally, super prospect Aaron Pico earned rave reviews for his striking in his 37-second victory against Shane Krutchen. The 21-year-old displayed outstanding boxing, dispatching Krutchen with a left hook to the body inside the first minute.
Comments
comments