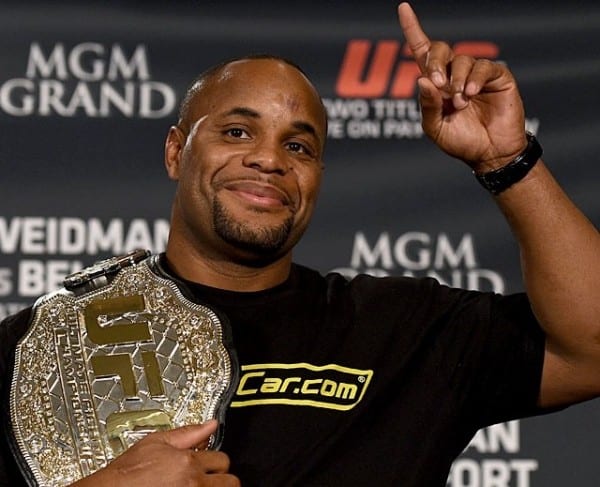 The moment Stipe Miocic lost his title to Daniel Cormier at UFC 226, he knew he wanted an immediate rematch for the belt. Unfortunately for him, despite going public with his demands that he won't accept any other bout, it seems new champion Cormier is set on meeting Brock Lesnar instead.
For Miocic, it's a matter of résumé. He's the man with the most amount of heavyweight title defenses, and was largely considered the best at the weight class heading into the Cormier bout. For Cormier, it's a matter of fight size — even if he knows where Miocic is coming form.
"Obviously he feels he deserves a rematch," Cormier said, speaking on the Steve Austin Show. "Again, for what he's done in the sport, you would think he would get a rematch but when there's a fight like Lesnar on the horizon you don't turn your back on that. And honestly, look, Stipe has a lot of really loyal fans but you can't think for a second that if he would have won that fight, he wouldn't have wanted or taken the Lesnar fight. It's the biggest fight in the sport outside of fighting Conor McGregor, and he fights at 155-pounds."
Despite the fact the Lesnar contest appeals from a financial standpoint, Cormier does believe there is some merit to beating the former heavyweight champion.
"I'm going to fight Brock," Cormier said. "Brock's a big, bad, tough boy. A former UFC champ, and obviously he's the WWE champion and just a massive guy with a lot of fighting abilities. I've known Brock for a real long time, and I'm really excited to compete against him — and not just compete against him, I wanna put it on him. Because when you beat a guy like Brock Lesnar — I mean really, if I beat the most dominant heavyweight champion of all time, and then couple that with a fight over Brock, they may call me one of the great heavyweights of all time."
Comments
comments