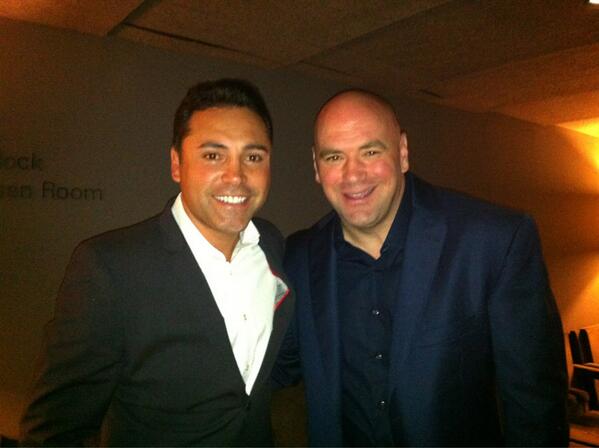 When news emerged that Tito Ortiz and Chuck Liddell would be coming out of retirement to step back into the cage for a third fight, there was a mixed reaction from the MMA community.
When it came to light that boxing promoter Oscar De La Hoya would be the man behind the contest, that reaction became one of confusion. Ortiz-Liddell will be De La Hoya's first foray into mixed martial arts, and both he and Ortiz have claimed Golden Boy MMA will provide fighters a new, unique avenue into the sport away from the more established structures of the UFC and Bellator.
Currently, the details on Ortiz-Liddell 3 are scarce. Both men seem to be on board, but there is yet to be a date or location to be announced. According to De La Hoya, however, that's just because they're still working on it, and other fighters should consider making similar moves to Golden Boy themselves.
"We're still crossing the t's and dotting the i's," De La Hoya said, speaking to Fight Hub TV. "But I'm really looking forward to getting involved with MMA and building a new business. I believe that combative sports are obviously here to stay. MMA has been doing an amazing job building their fighters, the UFC, and exposing their fighters and creating this incredible fan base.
"So I strongly feel — look, if any fighter who is an MMA fighter wants to explore a different avenue, come knock on our door, give us a call. I'm really excited about starting Golden Boy MMA which I guess is going to be a learning experience, but when we do things, we do them right, just like we've done with boxing.
"MMA, it excites me. It's something different. There's a lot of fans out there who want to see something new, and Golden Boy can deliver that."
Comments
comments