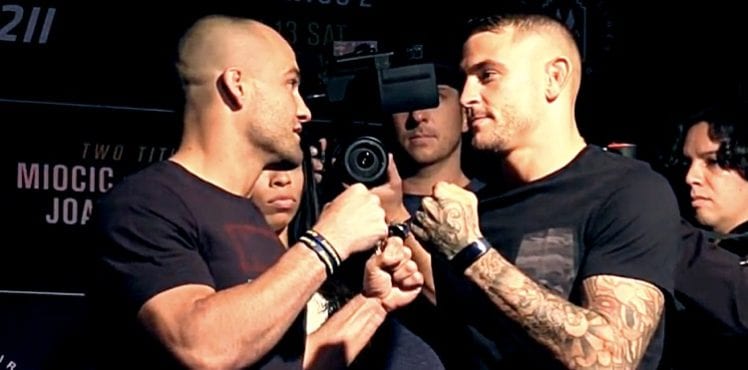 Dustin Poirier is expecting a similar type of bout when he steps in the octagon with Eddie Alvarez for a second time this weekend.
Their first meeting, a back and forth contest at UFC 211 in May of last year, ended when Poirier was unable to continue after Alvarez landed an illegal knee. Prior to that, Poirier was scoring significant success feet on the feet — and he plans on being a more refined version of that fighter on Saturday night.
"This time when I hurt Eddie, I'm going to take my time," Poirier said to Luke Thomas on The MMA Hour via MMA Fighting.
"I know that I did it with skill, this stuff doesn't happen by chance. So if I do hurt him, I can take my time and put him away. And if I don't put him away there, then it'll happen again, I'll hurt him again. You've just got to stick to that and keep it clean, man.
"I feel like it's going to be similar," Poirier affirmed. "I feel like the Gaethje fight could've been as smooth or as tough as I made it, and I think this fight is going to be similar if I stick to my gameplan. If I use clean and crisp striking and I don't brawl, then it'll be as smooth as I want it to be. Of course, it's still a fight, so adversity might present itself. But I'm the better fighter, I believe.
"[Beating Gaethje] gave me reassurance that these guys — guys like Gaethje, guys like Eddie — these guys don't mentally break," Poirier said.
"They don't find a way out. They don't beat themselves. These guys are in there for the long haul. And it just reassures to me that technique and patience [matter]. When your body quits on you, it doesn't matter how mentally tough you are. All of these guys are tough. And the same thing is going to happen with Eddie. He's a warrior. He's a dog. He wants to go out there and fight. His back's against the wall. He's in a dangerous spot in his career and he's going to leave it all out there. And when his body quits on him, there's nothing he can do about it. That's the beautiful part about fighting."
Poirier says that he intends to use this bout to place himself in contention for a title bout at 155-pounds.
"I'm going to go out there and earn it the hard way: In blood," Poirier said. "I'm going to earn my title shot. I'm going to earn this win. I'm going to take everything I want, and that's exactly what's going to happen.
"Everybody has their own path. Everybody peaks at different times. Nothing in my life was ever easy. Adversity teaches a man a lot about himself. I'm well acquainted with myself, man. I know what's going on, I know who I am, and this is just fighting. Tune in Saturday, watch me go to work."
Comments
comments