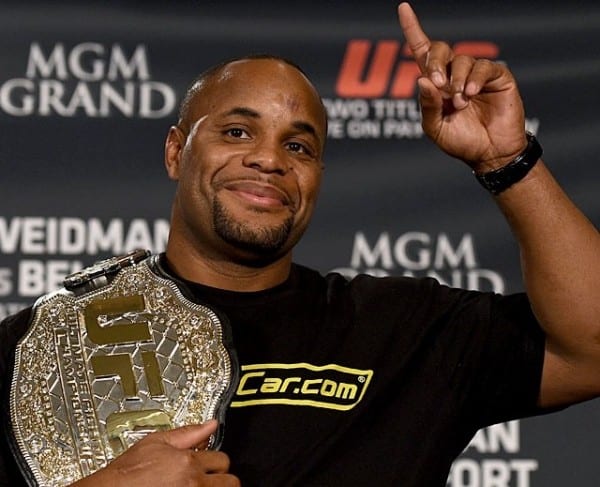 Daniel Cormier is an accomplished man — he's a world champion, an olympic level wrestler and one of the pound for pound best fighters in the world. And yet, throughout nearly the entirety of his UFC tenure, his name is attached to that of another. Jon Jones.
In one of the most heated grudge matches the sport had seen, the duo fought two years ago, with Jones the victor. Since then, it seems a shot at redemption has slipped through Cormier's fingers at every turn.
And, with age not on his side, Cormier knows that with a successful title defence against Anthony 'Rumble' Johnson in April, perhaps his last shot at Jones will finally present itself.
"That's what I've been pining to do since 2015," Cormier said, speaking on The MMA Hour. "It's been two years. That's all I've been wanting to do is get another opportunity to fight him, so yeah. … Jon and I have been scheduled to fight four times. We've only fought once."
It's a fight that, despite nearly-but-not taking place a number of times, will no doubt grab fan interest. Jones and Cormier find a way to get under the others skin, and especially with a potential fight between the two being Jones (latest) return from controversy, it could be a huge contest.
But, in the past, UFC President Dana White has cited Jones out of the cage troubles as a reason to hesitate in putting him back into a main event role. How could the UFC trust someone who has repeatedly let them down in the past, he said following the UFC 200 debacle.
So would that mean Cormier-Jones II, one of the biggest grudge matches of all time, could be a co-main event spot?
"I don't think that's necessarily true," Cormier said. "We'd have to all have some discussions. I'm not going to fight Jones just on some card. It would have to be a certain type of card if we were going to take a co-main event type of role. But there in lies another issue. I'll put it out there, Jon and I will not fight in the co-main event to anyone but Conor McGregor. That's the only way that makes sense."
Of course, before all that: Anthony Johnson.
Cormier and Johnson headline UFC 210, which takes place April 8th in Buffalo, New York.
Comments
comments