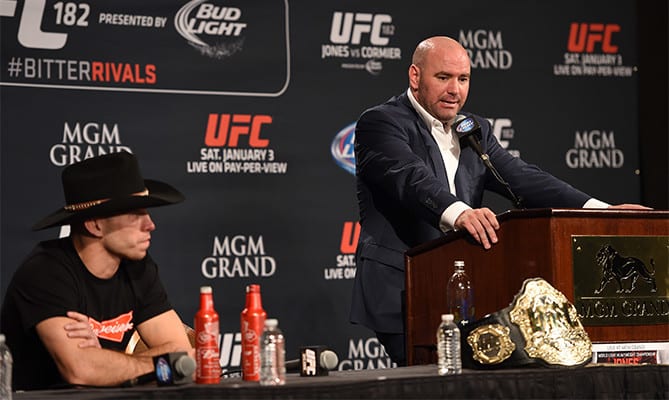 Donald Cerrone didn't exactly endear himself to UFC President Dana White when he announced his involvement in the latest fighter collective, the MMAAA, but after a few days of the two trading words in the media, they agreed to meet for dinner and discuss the issue in person.
The dinner, Cerrone said at the UFC 206 media day, was to discuss the three things he felt were most important in regards to fighter issues: fighter pay, health insurance and a post-fighting career pension.
In fighting terms, the round doesn't seem to have gone Cowboy's way.
"He's never won a title in the WEC or the UFC, he's headlined three events in his whole career," White said, speaking on the Tim & Sid show. "The guy is going to make fighting this year $1.3m and that doesn't include his sponsorship, which could put him anywhere to $1.6m to $1.7/8, I don't know what the number is. That's his business not mine; but how much money do you think you should be making Cowboy?"
Supposedly, Cerrone agreed. White said that Cerrone made a point to mention he had not been one of the MMAAA members to bring up the concept of increased fighter pay. But, when Cerrone asked for his health insurance and a retirement plan, there was less common ground.
While the UFC do offer its fighters medical coverage, it only covers them while they're either in competition or while they're training to be; something White says is down to cost.
"We have a health insurance plan now," White said. "If anything happens to them in the Octagon, they're fully covered for anything. We cover everything that happens to them, but outside now we have a deal for when they're training — because a lot of guys get hurt in training. Is it the greatest policy ever — no.
"But let me tell you something, don't ever be mistaken about why insurance companies are in business. They're in business to make money, and [when you insure them] you don't make money on 500 ultimate fighters, because they're always hurt."
And as for a pension plan? Well, judging by White's tone, the MMAAA have quite the job ahead.
"And when we talk about post-fight.. Cowboy and all the other fighters, you're making a million-something [dollars] this year," White said. "That is your retirement. You can't live off the sponsorship money and throw $1.3m in the bank? And do that for the next couple of years? And then hopefully invest your money wisely — that's all of our situations, we're all in that same situation.
"When you look at these guys and you think a guy who never held the title, and a guy who has only headlined three events for the UFC is making millions of dollars."
Comments
comments