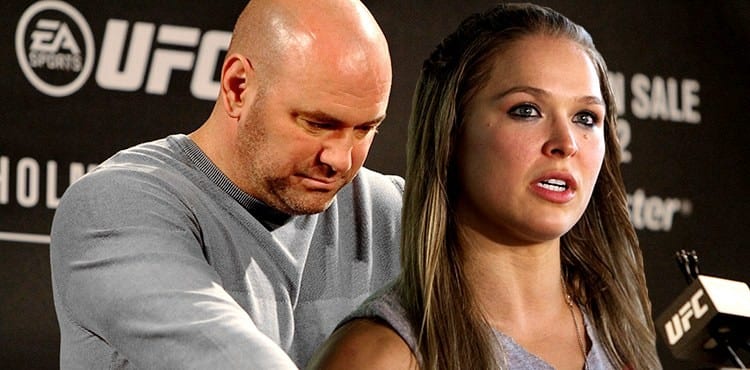 The will-she or won't-she narrative surrounding Ronda Rousey's potential return to the fight game has been swirling since the former queen of the women's bantamweight division suffered a crushing 48-second loss at the hands of Amanda Nunes last December.
The loss, her second straight inside the octagon, was so conclusive that it left many commentators questioning whether or not Rousey would ever fight again in the UFC. Dana White, speaking on the UFC Unfiltered podcast with Jim Norton and Matt Serra, remains unconvinced that the Olympic judoka will set foot inside a UFC cage again.
"In the conversation I had with her, if I had to say right here right now?" White mused. "Again I don't like saying right here right now because it's up to her. But I wouldn't say she fights again. I think she's probably done. She's going to ride off into the sunset and start living her life outside of fighting."
"She's so competitive that her career and record meant everything to her. And then once she lost, she started to say to herself, 'What the fuck am I doing? This is my whole life. This is it? I want to experience and start doing other things.' And I think that's what she started to do, and she's got a lot of money. She's never going to need money again."
Rousey has stated prior to the Nunes loss that her time in the fight game was coming to an end and it's clear that White suspects that the manner of her defeat to the current 135-pound female champion may hasten her seemingly inevitable departure.
Her status as one of the biggest names in the sport has swelled her bank account to the extent that she doesn't need fighting to provide an income. Rousey has also successfully made a transition to Hollywood, appearing in several movies in recent years which have proved to be box office successes.
Rousey, though, has always been an incredibly ambitious personality within the cage and you can be sure that departing the sport on the back of two heavy losses wouldn't sit well with her competitive spirit but, with the spotlight on her and her career now like never before, this could well be the appropriate time for the famously media-shy fighter to make her exit from the world of combat sports.
We wait with baited breath.
Comments
comments