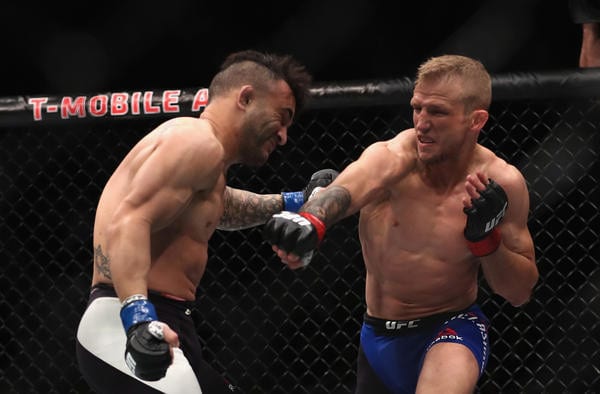 For the best part of a year T.J Dillashaw has been angling for a title bout at 125-pounds against the undefeated (at flyweight) Demetrious Johnson and, more recently, it has seemed that Johnson has been open to the challenge. 
Rumblings had suggested that the superfight between the two UFC champions could take place during the UFC's annual International Fight Week in July. However, not only has White said that this isn't the case — he says that it was never the case.
In a text message to Lance Pugmire of the LA Times, White confirmed that the bout "is not happening". Furthermore, White added that Johnson is currently battling an injury. "It was never made. Plus, D.J. is hurt and out for a while," the UFC president wrote.
White also stated that the UFC is "working on" an alternate bout for Dillashaw, who won the organisation's bantamweight title for the second time with a knockout of Cody Garbrandt in New York in November. Garbrandt would certainly be a candidate to face Dillashaw once again, given their rivalry and how exciting their UFC 217 bout was.
The hypothetical Johnson vs. Dillashaw bout was intended to be one of three 'champion vs. champion' bouts to take place in Las Vegas this summer. The heavyweight title clash between Stipe Miocic and Daniel Cormier is already confirmed and a prospective bout between Cris 'Cyborg' Justino and Amanda Nunes is also being targeted, though Nunes will have to get past her next challenger, Raquel Pennington, to make that bout a reality.
Comments
comments