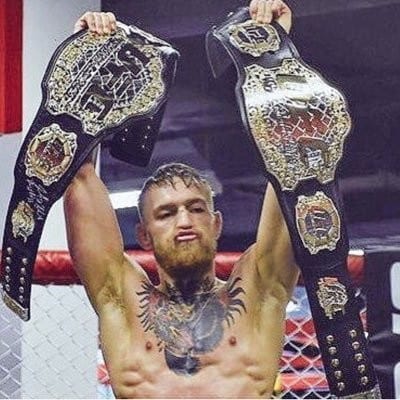 The main event of UFC 205 is likely to be the biggest fight in UFC history.
With featherweight king Conor McGregor in one corner, and lightweight Eddie Alvarez in the other, it's one of the hugely rare opportunities for fans to see two champions square off in the cage.
As such, UFC 205 also presents McGregor's first showing at 155-pounds in the UFC, an occasion long overdue. Meant to make his divisional debut at UFC 194 against then-champion Rafael Dos Anjos, McGregor has had to wait nearly a full year to fight at what many suspect to be his optimum weight. Something he's excited to finally do.
"I'm going to go out and show them," McGregor said in an exclusive interview with TheMacLife.com. "I'm going to go out and show them all that's my division also. I'm going to be a two weight world champion, how many years have I been saying that? Now I'm gonna go ahead and do it. Take out the featherweights, take out the lightweights, and here I am now showcasing at 155-pounds."
McGregor's chase for two belts has long been documented. Starting with his winning two belts ina different organisation before being cemented when, during an open workout prior to a bout with Dennis Siver, he was handed two titles and raised them above his head. A picture of which now adorns his social media — a visual aid in picturing his goals.
"It is for real, I see it as for real, I always did," he said. "Look way back when I KO'd [Dustin] Poirier. I went backstage, someone had a belt and I wrapped the belt [over my shoulder] and I took a picture. I was in that ivory suit, I had the picture of the belt, I didn't have no belt at the time, but that was my picture. I looked at it everyday, and that was reality to me. I believed in it, I pushed it and then it became reality.
"At the same time in that open workout for Dennis Siver in Boston, there were two belts there, I grabbed both of them and then I took a picture and again: that's been my reality. I've seen it all as real."
At UFC 205, McGregor will have the opportunity to turn his vision into life by potentially becoming the first UFC fighter to ever hold two belts simultaneously — something that would no doubt produce another picture.
Comments
comments