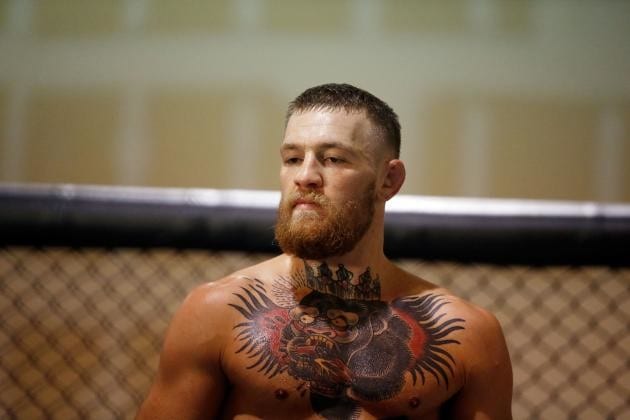 Conor McGregor's rise in the UFC hasn't come without making a few waves.
Currently in training for a lightweight title fight at UFC 205 against Eddie Alvarez, McGregor aims to become the only fighter ever in UFC to hold two belts simultaneously. While most are excited to see McGregor get the opportunity to make history, his challenging for the 155-pound belt while holding onto the featherweight championship has caused some of his fellow fighters to feel aggrieved.
While many have claimed that McGregor's chances are found through UFC favouritism, or that his chance has been undeservedly given, McGregor instead feels it's simply a case of hard work paying off.
"Who is going out there, time and time again, back to back to back to back, putting it all on the line and continuing to show up?" McGregor said, in an exclusive video with themaclife.com. "They all say I'm all talk. I look at them and say they're all talk, because I'm the one in here fighting every week.
"I only had a five round war with a guy three times the size of me, and now I'm back again and all I hear is complaining, bitching, moaning. You want this money? You want this? You want what I got, you got to put in the fucking work. And as far as I'm seeing, nobody's putting in the work. Everybody's talking, everybody's thinking 'just because Conor has it, I should have it'. No, no. I didn't always have it, there's a reason why I have it.
"I had to work my fucking bollocks off to get it, and here I am still working. While they're talking."
It's not hard to see what work he means. Since arriving in the UFC, McGregor has fought multiple times a year (nine times since 2013), even with time out for injury. Add in the fact that with the exception of his bout with Max Holloway — a fight in which tore his ACL — McGregor has received either a fight of the night, performance of the night or knockout of the night bonus in every one of his UFC appearances, and you can understand why the Irishman has become the phenomenon he is.
As for it paying off: today, reports emerged that McGregor is now far and away the biggest star in mixed martial arts, with 25% of the company's PPV earnings in 2015 stemming from his appearances that year.
At UFC 205, the bout with Alvarez doesn't just offer McGregor a shot at the lightweight title, it also offers him a chance to show off at what many feel is his natural weight class; 155-pounds.
"Very excited and at the same time calm," McGregor said he felt about performing at lightweight. "Calm and excited. We're going to go out there and put on a showcase. Stake my claim. What can they say now? Two belts, what I said; I did. We're very excited about the future. We're only starting here, there's a lot more coming."
And as for the rest of the lightweight division?
"I'm going to kill them all."
Comments
comments