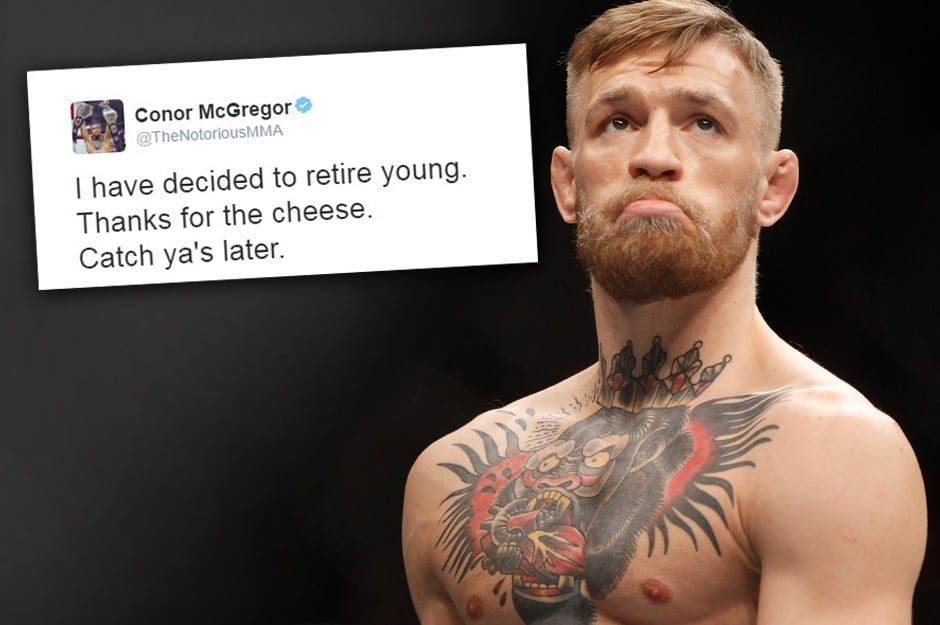 When Conor McGregor sent out his infamous retirement tweet in the lead up to UFC 200, few could have anticipated how manic the reaction would have been.
Annoyed with the UFC's refusal to lower his media requirements, McGregor announced his retirement on social media, sending both the MMA news and sports mainstream into a frenzy.
At the time, and indeed since his return to the sport, some have voiced skepticism that it was anything more than a negotiation tactic. But on MMAFighting's MMA Hour, Monday, McGregor noted that if the talks had continued the way they had been up to that point, he was really done.
"If it came down to it, I would have [retired]," McGregor said. "But I mean, good luck keeping an Irish man from a fight. I woulda shown up and slapped someone the way it was all going down, but fuck it.
"I was happy, when it all came down to it. For a day I was like fuck it, I am retired! Put the feet up I did that night, had a fucking drink, went out. Then it kinda got a little more serious."
What got serious was the amount of traction the tweet received. At time of writing, the tweet has received 162,138 and 174,988 favourites.
"Whatever, it was a crazy experience," McGregor said. "But if it came down to it, fuck yeah. I'd have a knock somewhere else. I don't know what would have happened, but like I said, I'm comfortable. Win, lose draw, whatever happens its shrimp spaghetti to start for me for the rest of my life. I'm eating good for the rest of my days. Whatever happens, happens. But I do enjoy a good old fashioned knock, so thats why I'm happy to be back."
Some could be forgiven for assuming that relationships between the UFC featherweight champion and the UFC brass have been somewhat strained since the public dispute, but McGregor refuted such rumours.
"Amazing," McGregor said regarding his relationship with UFC bosses. "My relationship with Dana and Lorenzo and everyone has always been great. We have moments, we have business moments, but our relationship is great. I have a lot of respect for Dana. Like I said, what they have done in the sport has been truly phenomenal and to be on name to name basis and to be mentored by these people is great. My relationship is great. It's been no different.
"I mean I haven't spoke to them that much since 200. I've been just kinda left, and they've been giving what I asked, and I've just been working. I don't really know what Dana's position is anymore, I don't really know what… you know everything's kinda changing right now as I'm preparing for a fight. So I'm just letting things happen on that side, letting things happen on my side and I'm gonna show up and fight, and after the fight we'll figure out whats going on, I'm sure, and whats next and we'll get down to more business."
Comments
comments