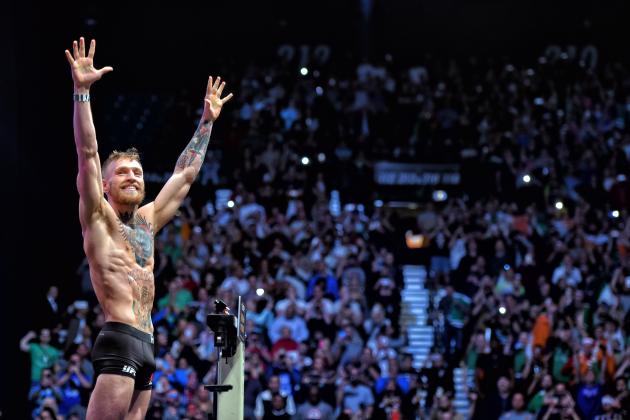 It's well known that Conor McGregor fights are usually accompanied by a travelling faithful of his Irish countrymen.
At UFC 189, UFC 194 and UFC 196 the crowds were filled with Irish flags and the singing fans. In the lead up to UFC 202, however, there has been speculation that the usual Irish majority won't be in attendance.
On MMAFighting's The MMA Hour, McGregor was asked about the potential of being without the usual singing fans, and what he expects the atmosphere to be like.
"Well I estimate I'll be fighting in enemy territory this time," McGregor said. "Usually it's been home for me this place, with travelling fans. I'm estimating I'm going into a war zone here, that's what I estimate, that's what I've been preparing for, that's what I'm looking forward to."
McGregor moved on listing a number of factors which have influenced the potential number of travelling Irish fans.
"There is many things for why the Irish fans cant make it," McGregor said. "The 200 debacle where they took me off that card, people had already purchased that, and then of course the European Championships, then the Olympics, there's a lot of stuff going on. And of course I'm an active fighter, I fight every goddamn month. I fight all the fucking time.
"It's getting close for me now that I want to fight back home, that I want to give my fans back home a fight. I've been kept away from my home for a while. Now, I understand that, it's big business out here and that's why we're here. I've gotta handle myself too, as much as I wanna perform for the fans back home and I wanna have them shows back home and do that, I still gotta handle my business out here."
Yet even if this time they are no longer the vocal majority, McGregor still anticipates he'll have the same support. Wherever they may be watching from.
"I know my country men will be supporting me wherever they are and I know there will be many here in town and I know there'll be many more back home and all over the world supporting me. I am content with that for now."
Comments
comments