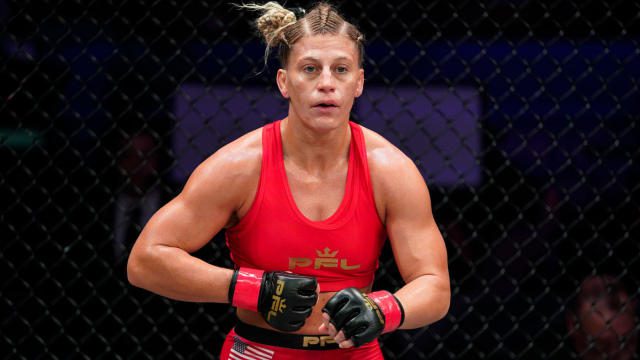 Two-time Olympic gold medal winning judoka turned undefeated mixed martial artist Kayla Harrison is probably the most high profile free agent in the sport today following the expiration of her deal with the PFL. 
She has been spotted at recent events promoted by UFC and Bellator, both apparently suitors for her next signature, but if she wants to fight the best female featherweight in the world, Dana White says she has only one option available to her — and that she might be the only fighter capable of adequately challenging Amanda Nunes.
"The day (Nunes) says she doesn't want to defend that belt anymore, we probably let it go," White said to TSN. "It's there for her. And I'm interested in the whole Kayla Harrison thing. She thinks she's the best in the world. There's only one way to find out: come over here and fight the GOAT."
Bellator, meanwhile, would be likely pit Harrison against their own featherweight star, Cris Cyborg, who recently defeated Ireland's Sinead Kavanagh in her latest title defence but who was soundly beaten by Nunes when they clashed in the UFC.
"Personally, I love Amanda; I think she's amazing," Harrison stated recently. "I don't want to piss off all of our teammates and coaches, and everyone have to, like, pick a side. That would be terrible, sh*tty. And listen, the UFC, I am also at that point in my life where I know my worth and I know my value and we'll see what happens, you know? Of course, the greatest compliment I can give to Amanda is that I want to fight her, but I want to fight her and then, like, we all go out to eat after, you know? Like, there's no animosity, … and I've been helping her train for Julianna."
Cyborg, meanwhile, is also a fighter whom she is curious about.
"I think (Bellator has) done a great job of building the 145 division," she said. "Their champion, Cyborg, is someone who is another huge pioneer in the sport. Huge name. One of the greatest, not the greatest, but one of the greatest fighters of all time, and who doesn't want to — you know, I think that would be a great test for me."
First things first; Amanda Nunes has to get past Juliana Pena. After that? Dana White has a plan, it would seem.
Comments
comments