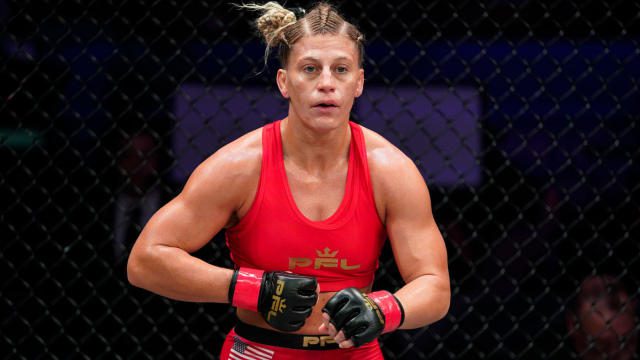 Rarely has there been as a high profile a free agent in women's MMA as Kayla Harrison.
The undefeated, two-time Olympic gold medal-winning judoka has torn through the PFL, winning both the 2019 and, more recently, the 2021 lightweight tournaments, with five knockout and five submissions in her 12 career wins showcasing the diverse arsenal of attack that she has at her disposal.
Her most recent fight, an armbar submission win against Taylor Guardado, being the last fight on her PFL deal, she has been strongly linked with a move to either Bellator or the UFC, where featherweight matchups against Cris Cyborg or Amanda Nunes would presumably be waiting for her.
Reports indicate that Harrison has been in discussion with several different suitors, but as she she told MMA Junkie she expects her future to be clear soon.
"Honestly, it wasn't too bad," Harrison said of negotiations. "There were moments, for sure, where I was super stressed just because, you know, the unknown is such a scary thing for me. Like, where am I going to go? What am I going to do? I have two kids that — like, the unknown, no security is kind of a scary thing. But again, I had faith in myself.
"I had faith that if I went out there and I did my job and I was so good that they couldn't ignore me, that I would end in a good spot and find myself in a fantastic position. That's where I'm at right now. You know, I'm in a fantastic position."
View this post on Instagram
Harrison has already been seen at events hosted by both the UFC and Bellator but refused to be drawn into the specifics of any conversations which might have taken place to date.
"I mean, I think it was just having some fun," Harrison said. "I didn't have to train. My coaches forced me to take some time off, so I was like, 'All right,' and my mom was in town, so I had a babysitter.
"But no, I really enjoyed the events. I enjoyed going to Bellator. Obviously, it was 20 minutes from my house, so that was pretty nice. Scott Coker was a great host. It was a very exciting event. … Obviously the fights for the UFC were amazing in New York. I don't think I've ever been to a more exciting night of fights. I was super impressed. It was a fantastic night of fights. So yeah, I mean, I'm just kind of hanging out – training, watching fights, raising kids."
Her next move will be an interesting one. Both Nunes and Cyborg are unquestionably the finest talents at 145-pounds but it a shallow pool. But if it's Amanda Nunes up next, she says she would be honoured.
"Personally, I love Amanda; I think she's amazing," Harrison stated. "I don't want to piss off all of our teammates and coaches, and everyone have to, like, pick a side. That would be terrible, sh*tty. And listen, the UFC, I am also at that point in my life where I know my worth and I know my value and we'll see what happens, you know? Of course, the greatest compliment I can give to Amanda is that I want to fight her, but I want to fight her and then, like, we all go out to eat after, you know? Like, there's no animosity, … and I've been helping her train for Julianna.
"There's nothing I wouldn't do for a teammate, and I feel like that to my core. That's who I am as a person. It's not personal out there, it's just business, and it's not done with malicious intention. It's all nothing but good vibes for me, you know? I consider it an honor to be mentioned in the same sentence as her. You know, she's the greatest of all time for a reason, and I put a lot of respect on that name, and I don't call people the greatest of all time lightly, so it's nothing but love for me."
And as for Cris Cyborg?
I think (Bellator has) done a great job of building the 145 division," Harrison said. "Their champion, Cyborg, is someone who is another huge pioneer in the sport. Huge name. One of the greatest, not the greatest, but one of the greatest fighters of all time, and who doesn't want to – you know, I think that would be a great test for me.
"I think that again, there's no animosity. There's no like, you know, 'I want to kill her,' or, 'F*ck her.' Like, there's none of that. It's just like she's another stepping stone on the path to greatness, and absolutely, I think Bellator is a great, great organisation. I don't have anything bad to say about them. I think they would be a great spot for me if if it works out, for sure."
Comments
comments