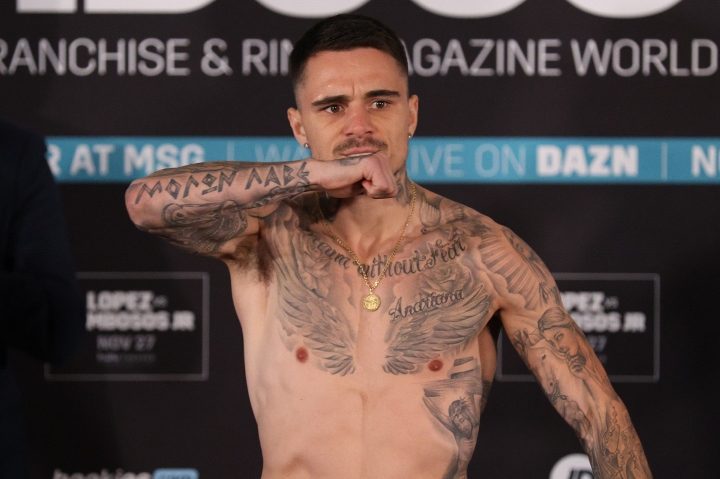 If anyone in the UFC's 135-pound fold is looking to throw hands, they may have found a willing partner in the shape of the newly-crowed lightweight world champion George Kambosos Jr.
The undefeated Australian shocked the boxing world this past weekend when he won a split decision against Teofimo Lopez in New York, erasing the American's own unbeaten streak and forcing him to forfeit the world titles he had secured in his previous bout against pound-for-pound great Vasyl Lomachenko.
Kambosos, who moved to 20-0 with the win, is looking to take on another unbeaten fighter, Devin Haney, in his next fight — but one day down the line, he could be tempted to try his luck in the UFC, and that he was received the backing of his compatriot Alexander Volkanovski.
"I'm a very big fan of the UFC," Kambosos announced to Ariel Helwani on The MMA Hour. "I love the sport, I love combat sports in general and me and Alex [Volkanovski] have a good relationship as well. He's been supporting me, I've been supporting him and I've said I'm going to come back with all these belts.
"He's the UFC featherweight king, and I'm the lightweight king and we're going to help each other."
View this post on Instagram
Several fighters have made the leap from the Octagon to the boxing ring over the years, with Conor McGregor being the most notable case, but so far boxers have been mostly reticent to make the same move — with the exception of Claressa Shields. But first, he says he would love to help Volkanovski sharped his striking.
"How good would it be for me to sharpen up his striking for him and him to help me with my grappling for my inside game?" Kambosos stated. "When I do get in the clinches I want to be able to use my weight and get a bit sharper on that side of the game, it's a good thing. We're both proud and we both got to the top of our sport and we're both Greek as well, so there's a lot of similarities.
"We're going to organise a training session when I get back and do a few things together," Kambosos added. "We're going to sharpen up his hands, which are super sharp already but a little more always helps, and he's going to sharpen up my inside game.
"Who knows, you might see me make my UFC debut in the future and he might end up in the boxing world soon, you never know! Maybe down the line, we'll see."
While it may be some time before this might become a reality, fight fans will tell you that we're long overdue a top-ranked pro boxer in their prime testing their skills in the cage at the sport's highest level. Will Kambosos be that guy? We will have to wait and see.
Comments
comments