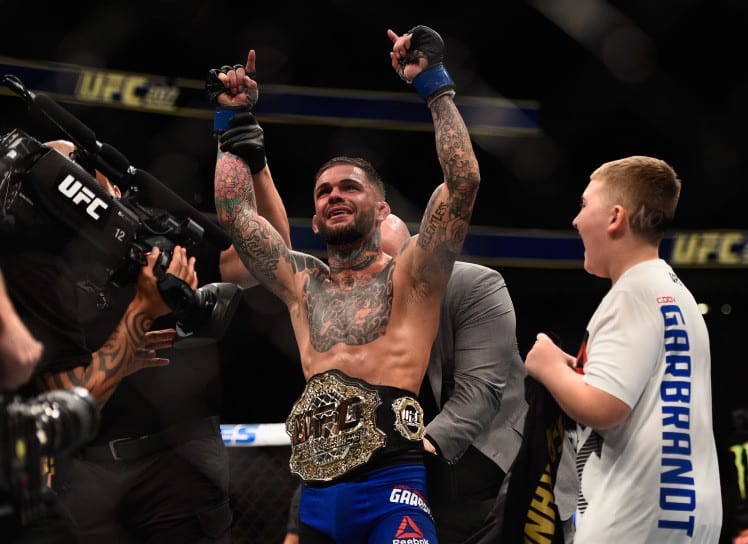 Newly crowned UFC bantamweight champion Cody Garbradnt isn't wasting any time in establishing himself some options.
Immediately following his stunning decision victory over Dominick Cruz at UFC 207, Garbrandt seemed to have lined up his next move — a fight against former training partner T.J. Dillashaw, who breezed through John Lineker just minutes prior.
Not so fast, however. Garbrandt has spoken to the media about how deserving Dominick Cruz is of an immediate rematch and has also kept the door ajar for 'money fights' with José Aldo and even Conor McGregor.
As unlikely as those last two might be, it seems that smart money is on either Cruz or Dillashaw being the new champion's first port of call but according to comments 'No Love' made on a new episode of the UFC Unfiltered podcast, it seems that Garbrandt is beginning to make his mind up.
"I don't mind whoopin' T.J.'s ass", Garbrandt said. "He was a cancer to our team and having what he tried to do – destroy it – to make that shit personal too. I'll spare everybody 60 bucks to buy the pay-per-view and put out the video of me knocking his ass out when I was 1-0. 1-0. He wasn't saying that he made me cry in practice. That motherfucker never made me cry. I wasn't the one looking at the ceiling, being on my back looking at the ceiling, knocked out. So he's just trying to do anything – the guy's a horrible trash talker. Horrible."
The relationship between T.J. Dillashaw and several of his former training partners at Team Alpha Male has degraded since Dillashaw's decision to depart the camp and leave for Colorado to train at Elevation Fight Team in Colorado, as well as under the tutelage of former Team Alpha Male head coach Duane Ludwig.
"I would get satisfaction from whoopin' his ass, that's for sure," said Garbrandt. "Just for what he did to the team. He sold out. He's a sellout. He sold his friends, everybody that got him there. He forgot who got him to where he was at. Saw a little bit of money and f**kin' ran. Ran away. But there was me always there, the uncrowned champ. I was the uncrowned champ when he was there.
"He never even won the title because truly, Cruz never lost it. So T.J. really was never a world champion. They use that 'former world champion,' Cruz was the world champion, never lost his belt, and I'm the one that went out there and ripped it from him."
It seems the kindling has been lit for a 135-pound title match between Dillashaw and Garbrandt but with Dominick Cruz, undefeated for a decade before last week, also in contention it seems that the UFC — and the new title-holder — have some decisions to make.
"I'm gonna sit down with Dana, Sean, and my management team and coaches and see what's the best fight for me. I just want to enjoy this but I'm the champion now and it's my job and duty and my responsibility to defend it against what fight makes the most sense for me. I don't know, we'll see. I believe that T.J. will be a good fight, a good storyline… I've just got to weigh in with the UFC and my management team and make the best decision for us both, to make money for everybody."
Comments
comments