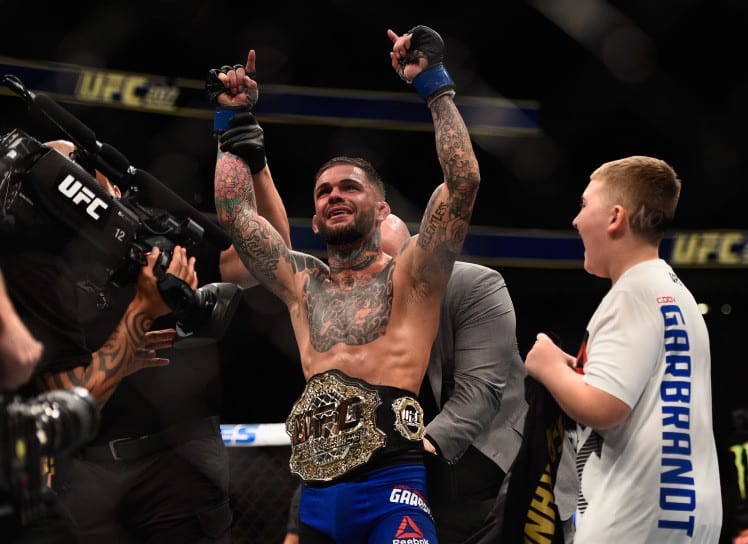 The fallout from TJ Dillashaw's acrimonious departure from Team Alpha Male continues.
Dillashaw's decisive victory against John Lineker at UFC 207 seems to have earmarked the Elevation Fight Team member's status as the #1 contender to the new owner of the UFC's 135-pound title, former training partner Cody Garbrandt.
And, since Garbrandt's stunning victory over Dominick Cruz at the same event, potential challengers have been attempting to align themselves for the first shot at Garbrandt's belt and two principle candidates have emerged.
There is backstory and natural drama infused into bouts between Garbrandt and Cruz or Dillashaw but it appears that it's the latter who has ushered himself into pole position following some recent remarks from the champ on Twitter.
Back in 2015 shortly after Conor McGregor's victory against Chad Mendes at UFC 189 McGregor referred to Dillashaw, then still a Team Alpha Male fighter, as a "snake in the grass" in the earshot of TAM teammates Urijah Faber and Garbrandt — and McGregor and Garbrandt almost came to blows as a result.
Now, though, things have changed. Writing about Dillashaw on Twitter, Garbrandt said that McGregor was indeed correct in his evaluation of the former bantamweight champion and accused Dillashaw of being a "sell out".
Haha no this fool is getting it!! 💯 little snake in the grass @TheNotoriousMMA was right about you, #Sellout https://t.co/Ei7MsjOdB3

— Cody Garbrandt (@Cody_Nolove) January 10, 2017
Wasn't for saying that, it was challenging us to fight! I'm always down to scrap when invited to one! #LetsBeRealhere 💯 https://t.co/z4Cv9nmaER

— Cody Garbrandt (@Cody_Nolove) January 10, 2017
He said this in the media because we all know the truth in what really went down! He sold out and lied to everyone! #RealTalk https://t.co/PynhhqcFZ9

— Cody Garbrandt (@Cody_Nolove) January 10, 2017
Garbrandt's next move isn't set just yet but it appears more and more likely that he'll be squaring off against a former teammate in TJ Dillashaw the next time he steps into the cage — and it's likely to be fireworks.
Comments
comments