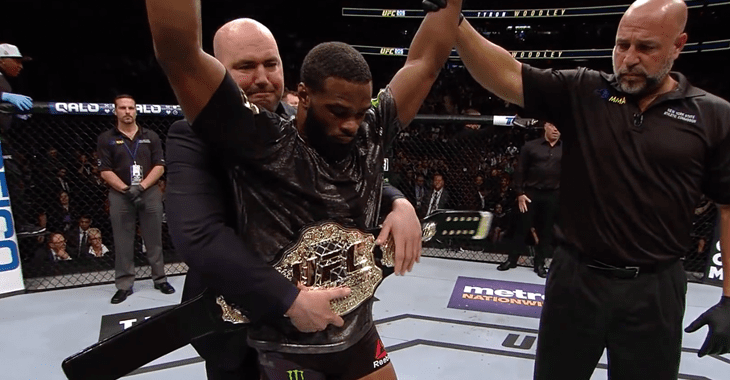 Tyron Woodley had planned on plugging an upcoming single he has recording with rapper Wiz Khalifa during his UFC 228 walkout but he says that the recent controversy regarding Nike's ad campaign featuring former San Francisco 49ers quarterback Colin Kaepernick persuaded him to change his plans.
Woodley instead walked out to the John Legend song 'Glory', which was featured prominently in the civil rights film 'Selma', he explained to ESPN's Ariel Helwani.
The UFC welterweight champion hails from Ferguson, Missouri, the scene of racial unrest in 2014 after police shot an unarmed African-American teenager to death and the Legend song connected with Woodley, in particular the line "That's why we walk through Ferguson with our hands up."
Colin Kaepernick is credited with beginning a wave of NFL protests against police brutality, many of which have taken place during the performance of the national anthem. There is a misperception as to the genesis of the protests, which has largely been spread by US president Donald Trump, which says that the protests are disrespectful to the US military.
In actuality, Kaepernick was advised and supported in his initial protest by members of the armed services.
"Then, the day before [the fight], I started looking at all the Kaepernick stuff," Woodley said.
"All the weapons that are always against me, and how much harder I always got to push to just get the even level of respect," said Woodley. "It's my chance to make a statement. … I think I sent out a strong message."
Comments
comments