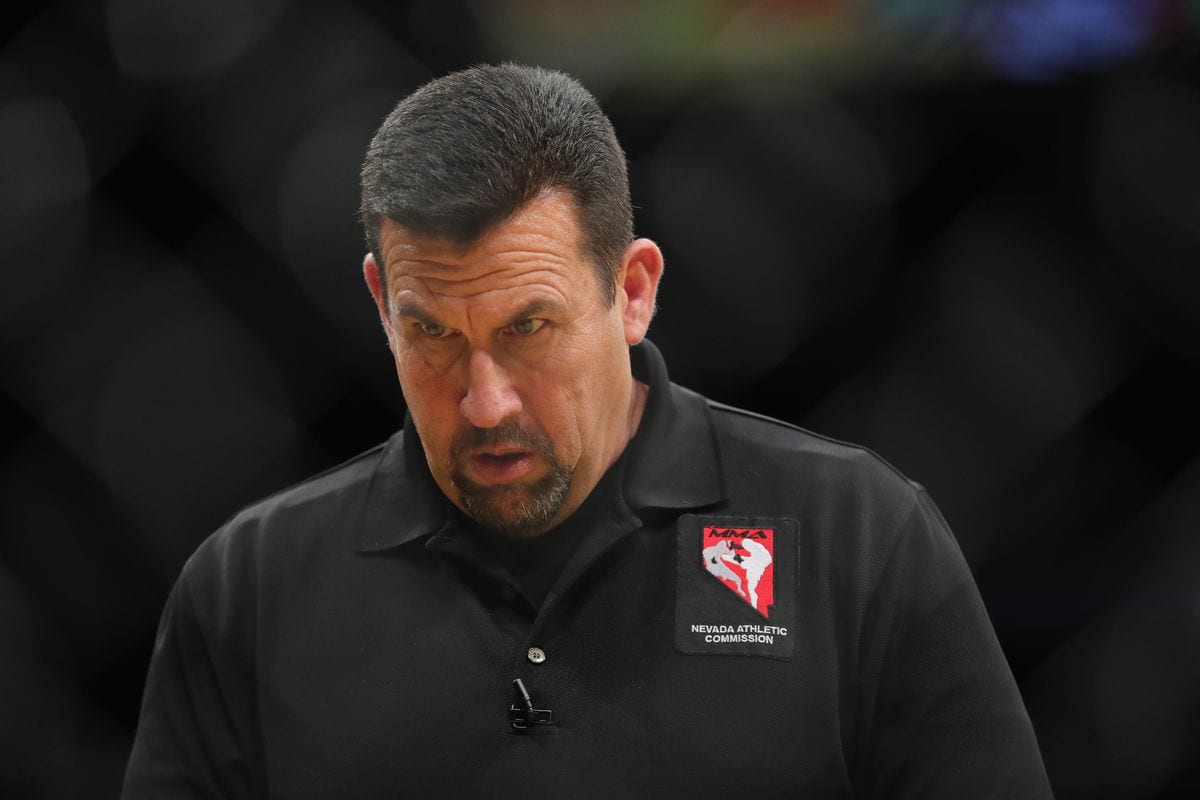 Earlier today, Bellator MMA revealed they had signed legendary referee 'Big' John McCarthy to a deal where he would fill a colour commentary role for their broadcasts.
While McCarthy is perfectly qualified for such a position — having been involved in the intricacies of mixed martial arts for multiple decades — it did raise the question what would happen to the man's refereeing career.
McCarthy is easily one of the longest tenured and most recognisable referees in the sport, and more than likely a future Hall of Famer. When his new role with Bellator was announced earlier, many felt that it signified the end to McCarthy's career as a referee, and lamented the loss of such an influential figure in such an important role.
Perhaps, however, those fears can be subdued somewhat.
While McCarthy isn't going to be seen in the middle of the cage any time soon, the 20+ year veteran isn't officially ruling out any further officiating.
"Can I go and referee? Yes, I can go and referee," McCarthy said, speaking with MMAFighting. "If I want to go and referee something internationally, I can do it. I can do small shows here if I want. I'll do charity events and things like that. I'm not gonna say, 'Oh, I'm retired.' I'm not retired. At this moment, I'm just taking on something else, so that's gonna go on the back burner. All of my attention is gonna go toward being the best color commentator I can be for Bellator."
That being said, while he's open to the idea of doing shows on a smaller scale than he previously worked, it's unlikely we'll see McCarthy being the third man in huge title fights anymore. According to him, it's not possible to take his new commentary position seriously and work fights of a large magnitude.
"I love what I do, I love the people that I get to work with, I love all the fighters," McCarthy said. "But when I say I'm walking away, I'm walking away from what people are gonna expect. They think that I can commentate Bellator and then go ref a UFC — that ain't gonna happen. I'm gonna be stepping away from what most people see of me as a referee. I'm still gonna work with athletic commissions."
Should this be the end of McCarthy's UFC involvement, it marks the end of a storied journey. Debuting as a ref at UFC 2 in 1994, McCarthy has been a part of mixed martial arts' growth from the very beginning. Helping come up with the unified rules, as well as updating them, McCarthy helped legitimise a sport that originated on the very fringes of mainstream and decency.
But after being at the top for long, McCarthy is ready to say goodbye to that level of the game. He has, after all, a resume more than filled with phenomenal moments and memories.
"I say this and I don't want anyone to think I'm egotistical in this, but in the realm of refereeing, where could I go?" McCarthy said. "I was doing two to three to four shows a week and I was running my ass off all over the place. But I got to do the greatest fights there were. I could not complain about anything that I was given as a referee. And there's only once place for me to go and that's down.
"I always told myself I was gonna walk away from that situation before someone told me that I needed to walk away, because I wasn't doing the right things. This was an opportunity that presented itself to me that excites me. It made me where I was like, you know what, that's something that I can work at, that's something that I can be good at."
McCarthy makes his debut for Bellator at Bellator 192 on January 20. He'll be covering fights such as Quinton 'Rampage' Jackson vs. Chael Sonnen and Rory MacDonald vs. Douglas Lima.
Comments
comments