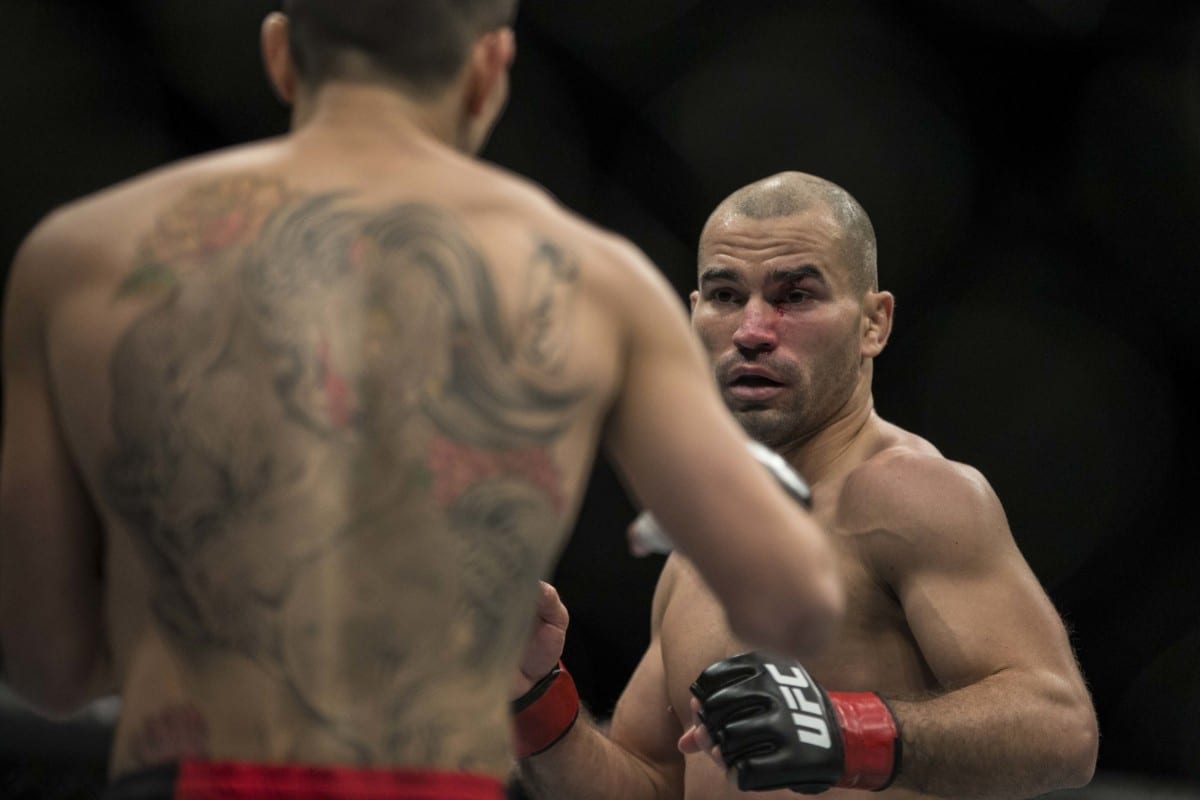 Despite being one of the most experienced fighters in Europe, watching Artem Lobov's decisive victory against Japanese prospect Teruto Ishihara in Belfast last month gave a sense that the Russian Hammer has finally hit his stride in the UFC.
Ishihara was undefeated in the UFC when he made the walk to the cage but Lobov's sharp and aggressive striking game meant that by the time the Japanese returned to the locker room, was bringing his first UFC loss back with him.
With friend and teammate Conor McGregor watching on from cageside, Lobov dominated throughout all three rounds in what was heralded by many as his best UFC performance to date.
While Lobov appreciates the plaudits, he still sees room for improvement.
"To be honest, I thought I was going to knock him out", Lobov said to TheMacLife.com at the end of another training session in SBG. "At the very end, if I had another 10 seconds I would have finished him but fair play to him for sticking in there.
"I knew I would dominate the guy. I know how good I am; I know what I'm capable of. For some reason I always feel that I do better against better opponents. I'm not sure why that it but the better my opponent is, the better my performance is."
The victory in Belfast came a week to the day from the moment Conor McGregor turned the sport on its head by raising his second UFC title inside Madison Square Garden. While delighted for his friend and teammate, watching McGregor's historic achievement in New York on television was a bittersweet moment for Lobov — a fighter who has been a key component to McGregor's successes through the years.
In the past Lobov admits he may have thrown caution to the wind and traveled to New York to help McGregor prepare but with lessons very much learned from past preparation mistakes, he made the decision to remain in Ireland to ensure he was in the best possible condition for his bout in Belfast.
"I've had a lot of ups and downs in the sport", Lobov recalls. "I've had a lot of great moments but this one certainly was very special, just given the scale of that moment — UFC back home in Ireland, my great friend and training partner Conor present after just having won his second belt. The moment had all of those things combined in one.
"The fact that I wasn't able to be there in New York. I was with him from the start, from his first UFC fight and before that from his first Cage Warriors title, I was there for all of those fights warming him up and getting him ready, walking him out to the cage and celebrating the victory. I wasn't able to do it this time because I had to do the sensible thing of staying back, making weight and finishing off my training.
"It was the right decision. I have learned from my mistakes in the past. I have done some crazy stuff around fight time back in the day and I paid for it. I wasn't going to do it again. The risk was too high and there was too much at stake."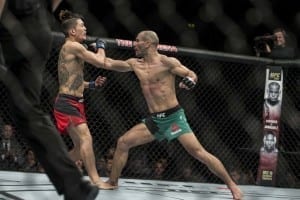 Before signing with the UFC, Lobov had earned a reputation as someone who will fight any opponent on any notice, regardless of the situation. Once he even took a fight while bedridden with a bout of the flu. And while his fight record appears patchy on paper, each one of those victories and losses are the sum of the parts that have made him the fighter he is today.
And he wouldn't change anything.
"[I was on a] three day bender right before my fight in the Ultimate Fighter house. That wasn't the smartest idea either probably but sometimes I just wasn't able to help it. Seeing Conor celebrate getting the belt from Mendes and knowing what he had gone through in that camp on one leg, no ACL. Having heard those conversations with doctors telling him, 'look man, you can't walk never mind fight'. Seeing him go through all that and lift that belt, that was a very emotional moment for me. I couldn't help but celebrate that moment with my brother, that victory."
While Lobov lost his initial fight in the Ultimate Fighter to Medhi Baghdad, he eventually earned a place in the house where three successive knockouts saw him advance to the finals. While he ultimately came up short, the experience of being there and fighting so often in such a small window was exactly the type of situation that Lobov thrives in.
"The Ultimate Fighter was the best time of my life", he explains. "I fought four times in six weeks and that's how I want to have it. I want to fight as often as I can."
Speaking to Lobov, you get the sense that he would fight every Saturday night if he could. The next European UFC event is slated to be in London next March and Lobov is a good bet for a spot on the card but the four month wait for that event doesn't sit well with him. In fact, Lobov has been furiously campaigning for a fight on social media — even going so far as to call out UFC matchmaker Sean Shelby for not following him on Twitter.
"I'm confident now. I feel the confidence from the win and I'm fit from the fight camp. I don't want to wait half a year and [the Ishihara win] is forgotten and it's like your first fight all over again. I want to ride that wave and I want to use that to my advantage and build on my momentum.
"Sean Shelby doesn't follow me. I looked through who he's following and there's some random fighters. I'm the one guy he wants to follow, I make his job easy. I am the kind of guy you want in there. I'm always ready to fight anyone. I don't negotiate who I'm going to fight and I'll do it at any weight class — and I never pull out of fights. I will be there no matter what.
"My word is like a diamond, it's unbreakable. If I say I will be there, I'll be there. If I'm not there, I'm probably dead."
Comments
comments