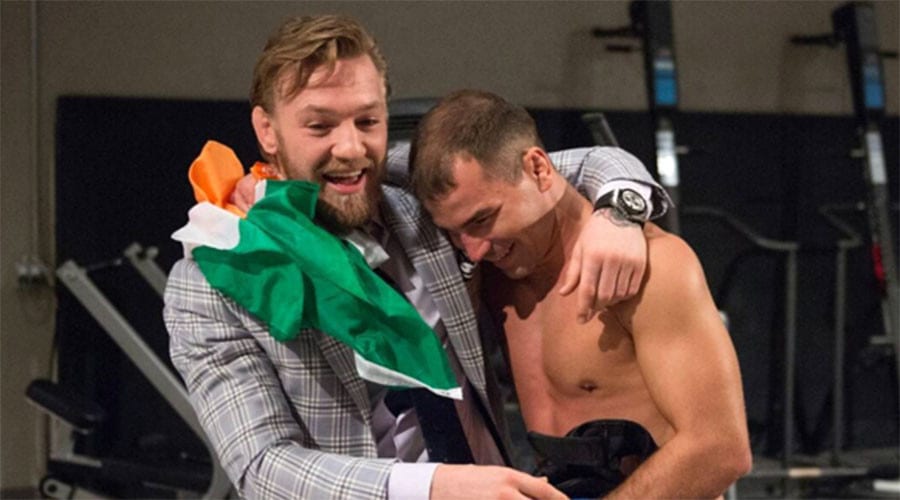 It's a busy month at Team SBG. With Conor McGregor fighting at UFC 205, and teammates Artem Lobov and Charlie Ward appearing just a week later at UFC Belfast, there's been hard work done in Dublin.
While having a few men in the same gym all fighting at a similar time, their training pushes each other to success — but it's not all great. Lobov found out firsthand how having an event so close to a teammates can have its downsides. While McGregor was in New York making history, Lobov was forced to watch from his sofa at home.
"I really wanted to be there, but after talking and consideration with John [Kavanagh] and Conor himself, there was no point in me being there," Lobov said, speaking with FloCombat. "It was his last week, and there was going to be loads of media obligations, so it was going to be hard for me to find the time to train and also do the weight cut with the travel.
"That's why I wasn't there, but I made sure my training was on point, and I'm ready to go. Even without the travel, the weight cut is hard enough. Being on that plane with all those people, smelling the food and you can't have anything and being in New York as well, it's not that warm. You are always freezing with all the water loading. I wouldn't have had the right training partners as well, so it would've been very difficult."
But while Lobov couldn't make it over the pond, he knows that McGregor will be back in time to watch him fight this weekend, complete with two belts following a phenomenal performance over a certain Eddie Alvarez.
Before the fight, Alvarez had criticised the level of the Irishman's training partners, even going as far as to say Lobov was nothing more than McGregor's punching bag.
"Alvarez can say that now," Lobov said. "He became Conor's punching bag as well on the night. At least we share that in common now. Look, I know where he was coming from.
"Post-fight he said he didn't know where the shots were coming from and how fast Conor was. I knew exactly what he meant, and I've been there many, many times so I feel you, Eddie. I feel you brother."
Lobov faces off with team Alpha Male product Teruto Ishihara on the first fight of the main card this Saturday. It takes place in Belfast, Northern Ireland at the SSE arena.
Comments
comments