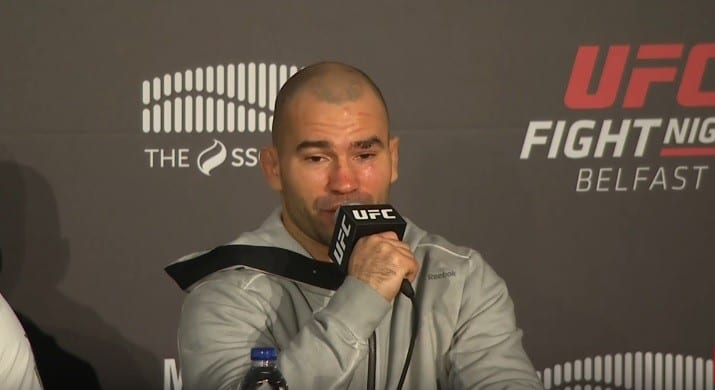 Since his outstanding performance at UFC Belfast where he scored a decisive unanimous decision victory over Teruto Ishihara, Artem Lobov has been anxious to get back inside the cage as soon as possible.
Speaking to TheMacLife.com in December, Lobov, never one to be a fan of sitting on the sidelines, maintained that he was eager to keep the momentum he seized in his victory over the Japanese in November and get a date set for another opponent.
Things have been moving slowly, however.
"I'm confident now", Lobov said, "I feel the confidence from the win and I'm fit from the fight camp. I don't want to wait half a year and [the Ishihara win] is forgotten and it's like your first fight all over again. I want to ride that wave and I want to use that to my advantage and build on my momentum.
"Sean Shelby doesn't follow me. I looked through who he's following and there's some random fighters. I'm the one guy he wants to follow, I make his job easy. I am the kind of guy you want in there. I'm always ready to fight anyone. I don't negotiate who I'm going to fight and I'll do it at any weight class — and I never pull out of fights. I will be there no matter what.
"My word is like a diamond, it's unbreakable. If I say I will be there, I'll be there. If I'm not there, I'm probably dead."
So, no surprise then that Lobov has been picking fights on Twitter. His latest focus? Cub Swanson, who looked so impressive in his fight of the year candidate against Doo Ho Choi last month.
Speaking with SevereMMA, Lobov said: "Cub Swanson or 'The Korean Superboy' would be a really good fight," Lobov said. "Their last fight was great and I really think I match up well against either of those guys. I really think that would be a good one. With Cub especially, I think that would be a very big fight for London. I think the fans would like to see me in their with 'The Korean Superboy' in London as well."
And, according to his Twitter at least, it seems as though Cub Swanson has taken the bait.
I've never liked Artem anyways lol

— Cub Swanson (@CubSwanson) January 7, 2017
.@CubSwanson you'll like me even less after I am done with you

— Artem Lobov (@RusHammerMMA) January 8, 2017
At the moment I have my sights set on Aldo or Holloway

— Cub Swanson (@CubSwanson) January 7, 2017
With both Aldo and Holloway seemingly on a collision course with each other, it does leave Swanson without a dance partner for UFC London in March and you get the sense that this is something that 'The Russian Hammer' won't pass up if there's even a chance of him making the fight.
Your move, Sean Shelby.
Comments
comments