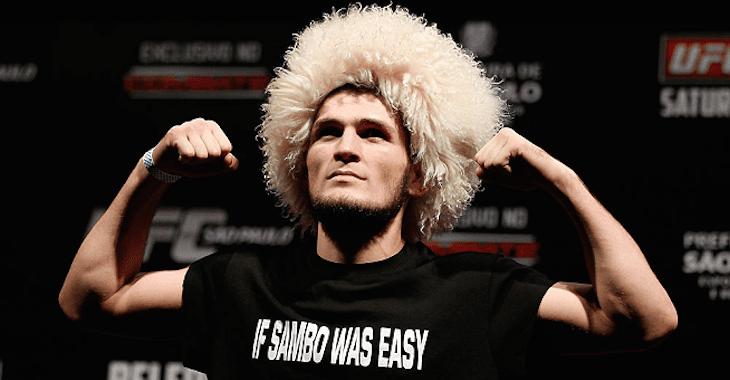 It's the lightweight contender match-up that we all want to see and it looks as though it might actually be happening.
After a series of obstacles and contractual disputes, a 155-pound clash between top contenders Khabib Nurmagomedov and Tony Ferguson looks like it might, just might, be going ahead.
Khabib, currently on an 8-win streak in the UFC, and Ferguson, who has won nine straight, are considered by most to be the two fighters most deserving at a shot at Conor McGregor's UFC lightweight title later this year so a match between the two to determine who's first in line for a shot at the gold makes sense whichever way you think about it — but it wasn't without some foot-dragging, given Ferguson's request that the UFC increase the terms of his contract for a high-profile match-up such as this.
When the UFC declined, Nurmagomedov even offered to pay Ferguson $200,000 of his own money to take the fight but Ferguson declined, saying that it was the UFC's job to pay its independent contractors and not the fighters themselves.
Now, though, the first real sign that everything might be resolved has appeared online. While nothing is set in stone until an official announcement is made by the UFC, Khabib's father has posted to Twitter saying that the fight is booked.

UFC 209 is the planned date for this, presumably as the co-main event to the planned welterweight title rematch between Tyron Woodley and Stephen Thompson. Khabib has also reportedly begun an eight-week training camp in advance of the potential bout.
With UFC 209 less than two months away and lots of rumours — but nothing solid — regarding the top two bouts, the UFC will no doubt be anxious to add the Nurmagomedov vs. Ferguson and Woodley vs. Thompson bouts to the card, but perhaps the most interesting factor of this will be if we learn whether the UFC relented and yielded to Ferguson's contract demands, or if the 'El Cucuy' decided to go with the terms of his current deal.
You can expect to hear more about this before long, we expect.
Comments
comments