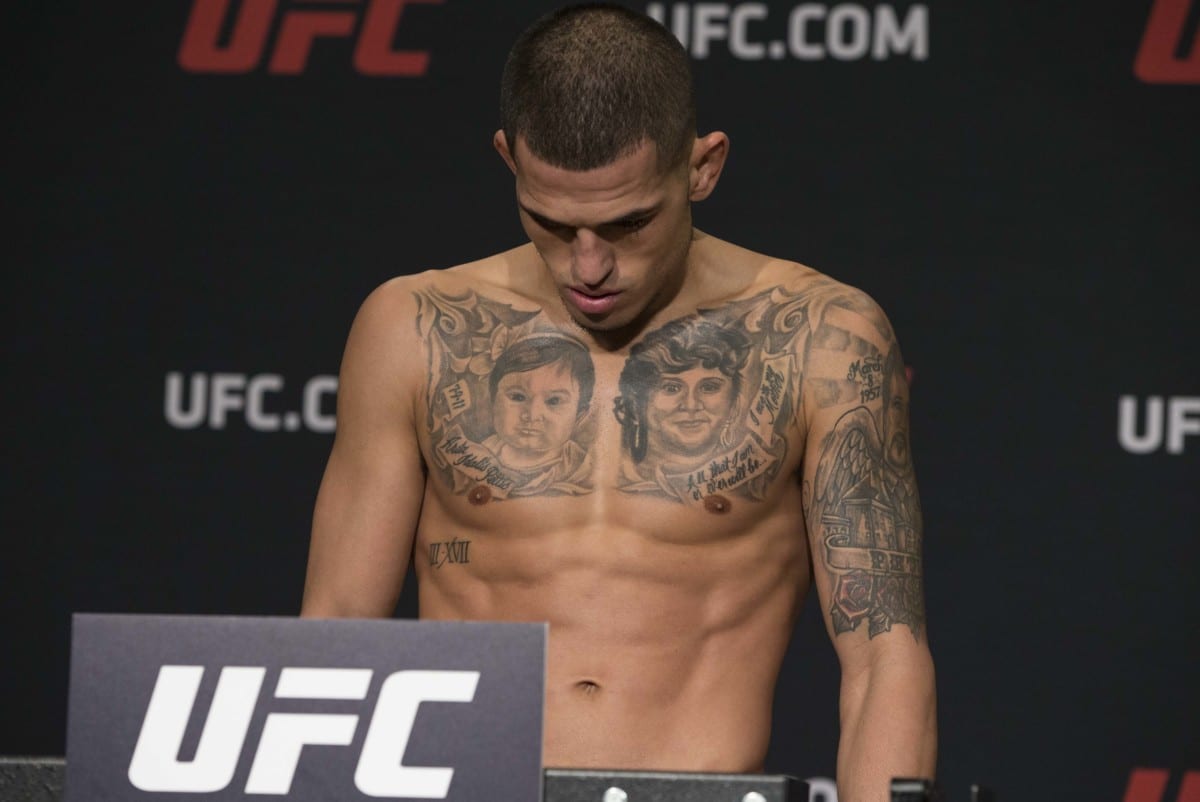 Anthony Pettis has missed weight ahead of Saturday's scheduled interim featherweight title bout with Max Holloway.
'Showtime' weighed in at 148 pounds, three pounds heavier than the championship weight limit of 145 pounds and in doing so has disqualified himself from potentially winning the interim title on Saturday night.
As per Dana White, Max Holloway — who made weight at 145 pounds — will still fight for the interim title, meaning that there is the strange situation where only one fighter in the main event is eligible to win the belt. As well as that, Pettis will forfeit 20% of his purse to the Hawaiian fighter.
Pettis becomes the first fighter since Travis Lutter in February 2007 to miss weight for a UFC title bout.
The UFC instigated the interim featherweight title after stripping Conor McGregor of the featherweight title he won from José Aldo last year, promoting the Brazilian to the full champion and placing the winner of UFC 206 main event in the number one contender spot. Questions will now likely be asked as to the wisdom of this move, given Pettis' failure to make weight.
3lbs is a lot to miss but the guy was trying and I respect that. At the end of the day it is what it is.

— Max Holloway (@BlessedMMA) December 9, 2016
they all say they can do what he can do. until it comes time to do what he can do.

— Coach Kavanagh (@John_Kavanagh) December 9, 2016
Max Holloway can still become the Interim Champion if he wins tomorrow. Anthony Pettis can't win the belt. BUT…

— Andrew McGahon (@andrewmcgahon_) December 9, 2016
… If Anthony Pettis wins tomorrow night then Is Aldo the Interim Champ and the Undisputed champ? #ChampChamp

— Andrew McGahon (@andrewmcgahon_) December 9, 2016
I'm only playing but we should have been checking the tea leaves on this one. Can't believe nobody called this potentially happening.

— Andrew McGahon (@andrewmcgahon_) December 9, 2016
I'm told the fight is still on. Holloway, if he wins, gets interim title. Pettis won't if he wins. He also gives up 20% of his purse to Max.

— Ariel Helwani (@arielhelwani) December 9, 2016
Damn. BTW, some people around Aldo still doubt Pettis got injured when he pulled out of that fight in Rio. Rumor is he would miss weight. https://t.co/XSStdvTOcv

— Guilherme Cruz (@guicruzzz) December 9, 2016
Comments
comments