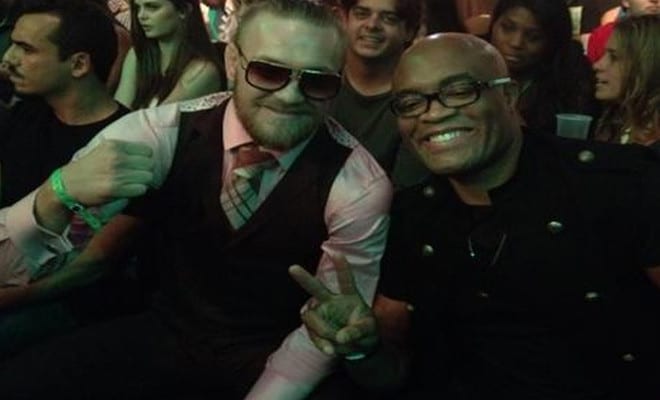 Anderson Silva is one of the most successful men to ever step foot into the UFC's Octagon, ruling over the middleweight division for years. And despite the fact his career appears to be on a different trajectory than it once was, at 41-years old the Brazilian still fancies a few more goes in the cage.
Indeed, despite being set to face Derek Brunson at UFC 208, Silva has his sights set on a particularly 'notorious' target, calling for a catchweight bout against UFC lightweight champion Conor McGregor.
"It is not provocation. It's just that I forget, I'm old," Silva said speaking to Brazilian media outlet GloboTV. "Old men knows what it's like. I have this urge to test myself against him. I think he's a guy who has an unusual ability. I do not know if he would reach a weight of 81, 82 kg, which is the weight I can get. But it's a guy I'd like to test myself before I end my career. I think it would be a great fight for the world of fights and UFC history."
It's not the first time Silva has mentioned the idea of a catchweight bout with the Irishman, and in the wake of McGregor's initial defeat to Nate Diaz last March that he felt McGregor was an incredible martial artist, and one that he wanted to test himself against.
The size difference between the two would of course mean most would disregard the talk as completely hypothetical, but should Silva be able to reach the 178-pounds (81kg) that he believes he can… stranger things have happened.
But then, McGregor appears to have an other seemingly-implausible super-fight on his mind, with talk of a boxing match against Floyd Mayweather starting to gain traction. Interestingly enough, should that spectacle end up occurring, Silva believes McGregor would have a better chance than many are giving him.
"I think everybody has a chance," Silva said, speaking with MMAFighting. "When you step inside (the ring) to fight, you have a chance. Of course that if you're fighting Mayweather, people would say 'oh, McGregor won't last a round,' but we never know.
"The movement is different, how you have your feet on the ground is different, the timing is different [in] boxing. The only way to see is putting them to fight. He would have to stop at least a year to be able to do a close fight, and I believe he should do it."
Comments
comments