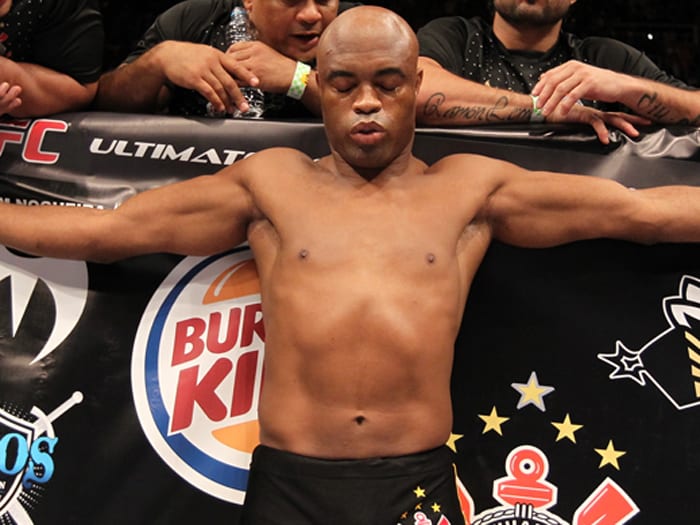 Michael Bisping's unlikely run to the UFC middleweight title was set into motion last year with a controversial decision victory against former 185-pound kingpin Anderson Silva.
The five-round judges' decision victory in front of Bisping's countrymen in London placed the Mancunian at the top of the line when Chris Weidman dropped out of a scheduled title rematch with then-champion Luke Rockhold at UFC 199 — a fight in which Bisping upset the odds and earned a stunning first round TKO against his heavily-favoured opponent.
But none of this should have happened according to Anderson Silva, who maintains he won the controversial fight with Bisping in February of last year. Towards the end of the third round of their bout Bisping, who had lost his mouthpiece, called for the referee to retrieve it but in his distraction he allowed a brief window of opportunity to Silva to land a sublime flying knee moments prior to the round ending.
Bisping slumped to the canvas and Silva celebrated and, while the fight was eventually restarted, Silva maintains that this was the moment he won the contest.
Speaking to Combate News, and translated by MMAJunkie, Silva said: "In my opinion, I won. It was very controversial because he landed two strikes when I was out of balance. He ended up getting the points. There was a situation when he was on top for a while, but I think I won the fight. Because when he ate the knee, the bell rang. And the rule, if I'm not mistaken, says he needs to get up on his own to go to his corner. He didn't get up on his own and, while I was up in the cage, the commission came in.
"The commission never enters if the fight isn't over. So when the commission came in, I was already celebrating, because he was knocked out. It's a sport, I didn't have to keep attacking him, also because the bell rang. But it's done, it's over. After he was knocked down, they brought in the stool for him to sit. The commission helped him get up and sit on the stool. He didn't get up on his own. He was sitting in my corner, then they removed the stool, and put it in his corner, and he was sitting down for a while."
Nonetheless, Silva maintains that he's not bitter with regard to the official result of the bout and hopes to face Bisping one more time before both is all said and done in their careers.
"In my opinion, I (won the fight)," he said. "But it's OK. He's the champion, he needs to be respected, and I hope to have another opportunity to fight him regardless of it being for the belt."
Comments
comments