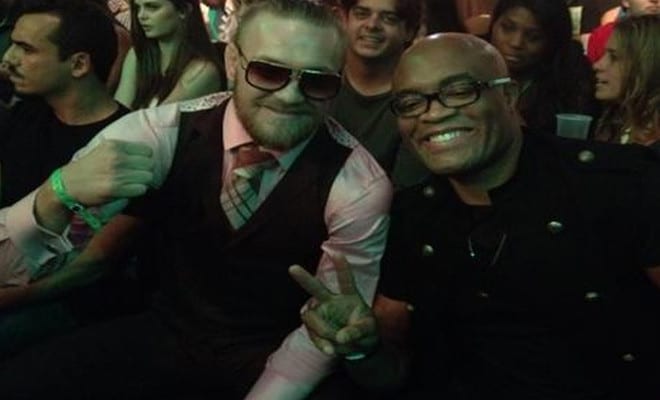 Anderson Silva is regarded as one of the greatest fighters in the history of combat sports. And while that conversation might spark some debate, when it comes to striking ability, his reputation as the best is rarely argued.
Perhaps that's why when he says he views a potential opponent as a test of his abilities, people tend to pay attention. As is the way with his recent calling for a catchweight fight with UFC lightweight champion Conor McGregor; Silva simply wants to try his hand at out-striking 'The Notorious'.
"I'd like to test myself against Conor because he's an interesting martial artist," Silva said to media in Brazil (via MMAFighting). "His stand-up game is an intelligent game. Not because he's champion now, but for the martial arts challenge. I'd like to see how these stand-up techniques, his and mine, would mix, and how that would go. But not to fight for a belt or anything like that. For the challenge, an interest, that thing about knowing how a fight like this would go."
While many point to the size difference between the duo as evidence that the bout could never happen, that won't stop Silva from suggesting the idea. Particularly when after an out-of-camp experiment showed him he could get down to a reasonable catchweight.
"I believe he can make 176, 178 pounds, right? That's a weight I can get," Silva said. "We started this work and I got to 174, but we thought it would be better now to do these tests.
"There was no fight booked, we made 174, and master Camoes said 'man, you don't need this, you're fine, so go back to your division.' I know I can make 174 now, but my team and my doctor, Marcio Tannure, decided [I should] stay in my division."
Until then however, Silva is booked to face Derek Brunson at UFC 208 which takes place February 11, in Brooklyn, New York.
Comments
comments