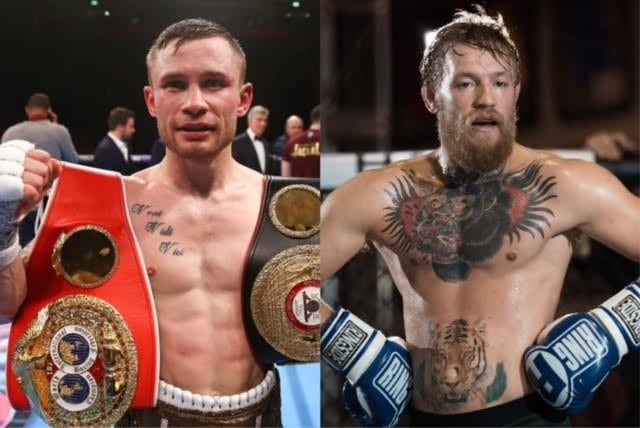 Conor McGregor isn't Ireland's only two-weight world champion.
This weekend Carl Frampton (23-0) looks to defend his WBA Super Featherweight title in a rematch against Leo Santa Cruz in Las Vegas and has harnessed the support of McGregor in his quest to dominate the world of boxing, much in the same manner as McGregor has done in mixed martial arts.
Late last year McGregor pipped Frampton to the title of Irish Sportsperson of the Year but the Belfast man isn't the least bit bitter at losing out on that accolade, particularly to a fellow combat sport champion and while they haven't yet met, Frampton revealed to The42.ie that McGregor has been in touch to wish The Jackal well.
"For combat sports [we're] probably [the biggest two in Ireland] but I feel that McGregor stands alone. He's a huge name all over the world. He's a massive star, someone who I admire a lot. I'm pretty happy with what I'm doing and the fan base I have.
"We're completely different characters. McGregor is doing his thing. But fair play to him. He seems to be raking it in and why not? I really like him. I haven't met him yet. I'm still looking to meet him."
"He's never been to a fight of mine. But he's watched me a few times, he's sent me a few video messages privately just to wish me luck in fights. He's a good guy. He has this persona, but he's playing the game and fair play to him."
Frampton won the WBA's version of the Super Featherweight title from Santa Cruz in a close fight last July and as he prepares for his first defense of the title against the same foe, Frampton suggests this fight could be the springboard to even more success for the Belfast man in 2017.
"Potentially this could be a bigger year", Frampton says. "I'm kicking off the year with a huge fight against Leo and it's giving me the chance, early in the year, to squeeze another two fights in. [I could] have [three] instead of two. If I remain undefeated and beat guys like Leo and [rumoured next opponent, Lee] Selby again, and have three fights, it's going to be a pretty great year again.
"I think going into this fight, I have the psychological edge. I've already beaten this guy, I've hurt him as well. So psychologically I think I have the upper hand."
Frampton's rematch with Santa Cruz takes place on Saturday 28th January in the MGM Grand Garden Arena in Las Vegas, the scene of McGregor's 13 second shellacking of José Aldo at UFC 194, and Frampton is convinced another chapter in Irish combat sports history will be written in the fight capital of the world this weekend.
Comments
comments