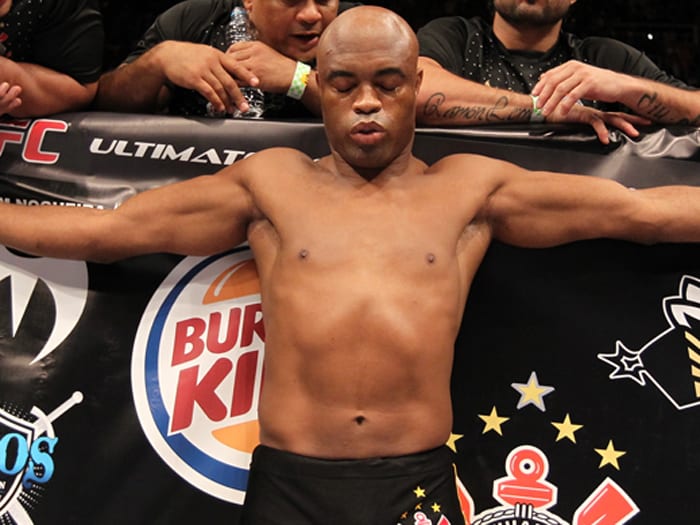 The topic of so-called 'super fights' has dominated the mixed martial arts landscape in recent times, particularly since the rise of Conor McGregor in the Ultimate Fighting Championship.
Fighters across numerous weight classes, from Anderson Silva at middleweight to Cody Garbrandt at bantamweight, have attempted (or are still attempting) to have their named inked on a bout agreement opposite the Dubliner but long before McGregor's debut in the UFC there was one super fight that every mixed martial arts fan wanted to see — and according to comments from Anderson Silva, he seems to want it to.
Back in the pre-FOX days of the UFC, Anderson Silva and Georges St-Pierre were the two most dominant champions in the UFC. Both fighters carved through successive number one contenders, one after the next, as they etched their names into the history books as two of the most dominant champions of all time and given that the two fighters were separated by just one weight class, it seemed within the realm of possibility that the two would one day meet inside the octagon.
But it never happened.
Nowadays, Silva is no longer the middleweight champion and St-Pierre isn't even an active UFC fighter (though he remains under contract) but fan interest remains intact in seeing these two square off against one another. Silva, too, is open to the bout with GSP — or even McGregor.
Speaking to FOX Sports ahead of his bout with Derek Brunson at UFC 208, Silva said: "I think super fight with Georges is great. It's a big step for this sport because I think super fight with me and Georges St-Pierre or Conor McGregor is good for this sport and for the fans. I think (it would be) the best show for this sport."
St-Pierre had previously said that he would be interested in a bout with Silva but would have to train extensively to make up for the size difference between welterweight and middleweight but, given that GSP was campaigning for a fight with middleweight kingpin Michael Bisping recently, it is likely that he has relaxed his stance on that.
Silva, who is now 41 years old, is in his final years in mixed martial arts and if the St-Pierre bout is to be made it would have to happen sooner rather than later but the Spider suggests that he wouldn't mind waiting around.
How much time does he have left in the UFC?
"My wife and kids would kill me but maybe three or four more years", he says.
More than enough time to put together one of the all-time mixed martial arts dream fights.
Comments
comments